Useful Information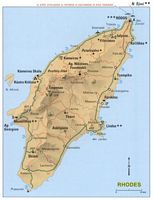 Official website of Rhodes http://www.rhodes.gr

Greek Tourist Office (EOT):
At the corner of Makariou and Papagou
Phone: 00 30 22410 44335/44336
Hours: Monday to Friday, 8 am to 15 pm
Tourist City:
Place of Rimini
Phone: 00 30 22410 20555
Hours: June-October, 9 am to 20 pm
Tourist Police:
1 rue Karpathou
Phone: 00 30 22410 23329
Post Office:
Place Eleftherias
Phone: 00 30 22410 22212
Hours: Monday to Friday, from 7 h 30 to 20 pm, Saturday from 7 h 30 to 14 h.
OTE:
91 rue Amerikis
Phone: 00 30 22410 596 29
Police: 00 30 22410 23278
City Hall: 00 30 22410 46200
Hospital: 00 30 22410 80000/22222
Climate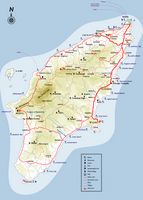 Mediterranean climate windy.

The climate is Mediterranean with mild winters. Subtropical summers, warm are refreshed by a system of seasonal breezes popularly known as "meltemia."
The mountains of the continent Rhodes harbor winds northeast.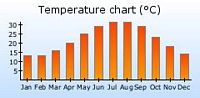 Average temperatures: winter 5/6 ° C was 24/27 ° C.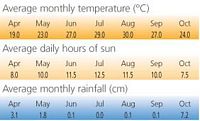 Sunshine: Rhodes Island is the sunniest in Europe, with 300 days of sunshine per year.

The summer is dry, rain falls mainly during November, December, February and March.
Weather
Weather in Rhodes now
Time difference
Time zone: UTC +2.

Time difference: + 1 hour.
Money
Currency is the euro (€

"evro")

per hundred took the name of

"lepta"

Greek.

Credit cards are increasingly used in stores, service stations and distributors.
Electricity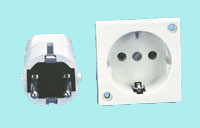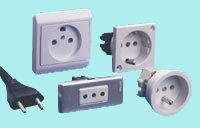 Voltage: 220 volts.

Jacks are compatible with French companies.
Had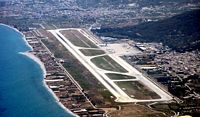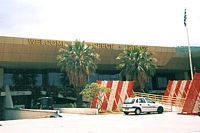 Special flights to Rhodes from Paris, Lyon, Nantes, Toulouse, Marseille and Mulhouse.

Several daily flights from Athens interiors, with links Iraklion in Crete, Kastelorizo, Kos, Karpathos, Mykonos, Mytilene, Paros, Santorini and Thessaloniki.

Airport:
16 km from the city of Rhodes.
Airport Phone: 00 30 22410 83200
Olympic Airways:
Address: street-Ierou Rochou
Phone: 00 30 22410 24555
Aegean Airlines:
Address: 20 rue Ethelonton-Dodekanision
Phone: 00 30 22410 24400
Phone Rhodes airport: 00 30 22410 98345
Ferries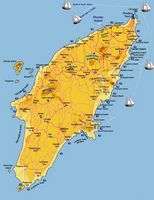 Can reach the island by ferry from Piraeus (20 hour crossing), via the Cyclades or via Patmos and Kos.

Connections with the islands of the Dodecanese by hydrofoil.

Excursions to Symi .

Captaincy: 00 30 22410 286 66/222 20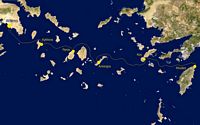 Road haulage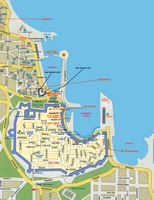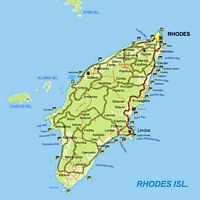 A Rhodes are two bus companies linking regularly Rhodes town to other towns. Buses serve most locations along the coast.

A detailed schedule of services is displayed on most information panels in hotels. They normally circulate from 7 am to 23 pm.

Company to the west coast
Bus: place of Rimini.
Phone: 00 30 22410 263 00
Company for the east coast:
Phone: 00 30 22410 277 06
Usages
We often hear the phrase

"Endaxi?

"(Εντάξει):

it means" Ok! okay ".

At the restaurant, the Greeks considered impolite to sit at a table - even free - without having been invited.

Photography: Most Greeks love to be photographed. Nevertheless, it must first obtain their consent by a nod or a smile.
Formalities
For nationals of the European Union, identity card or passport validity.

For unaccompanied minors both parents must an authorization to leave the country (issued Mairie).
Holiday Calendar
January 6: Epiphany

(Theofania).


Spectacular ceremony of the blessing of waters following a procession of young men dive into the sea to retrieve the cross thrown by the pope.
February-March: Carnival in the medieval city.
7 March: Celebration of attachment of the Dodecanese to Greece by the Treaty of Lausanne.
March 25: Celebration of Greek Independence. Greece releases Ottoman rule March 25, 1821.
April: Greek Easter. During Holy Week the country is idling. Many including the spectacular processions of

Epitafios.

May 1: Labour Day; flower festival.
May: Ascension and Pentecost Monday is a public holiday.
June 24: Summer Solstice and fires of St. John.
July 20: Feast of the Prophet Elijah

(Profitis Ilias)

and all the churches dedicated to him.
29 and 30 July: Feast of

Aghios Soulas

church of Kremasti .
August 14: Feast religious Kremasti , regional dances and exhibition of folk art.
August 15: Feast of the Dormition

(Kimissis)

and not of the Virgin of the Assumption.
End of August: Wine Festival in Park Rodini .
September 7: celebration Tsambikas monastery .
October 28: National Day of Victory of 1940. In 1936, after a coup d'état, Metaxas established a dictatorship. October 28, 1940, he refused the ultimatum of Italy which required the surrender of Greece. This is the day of the "great refusal"

(megalo Ochi).

Military journals, school parades and balls.
November 14: the Bishops of Saint Konstantinos Dodecanese celebrate together Ideos protector of Rhodes. All cities, villages, churches, monasteries celebrate annually the patron saint of the place, a pretext for various festivities.