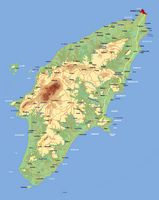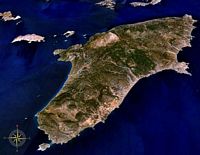 The island of Rhodes, Greek

Ρόδος

(Ródos)

is a Greek island, the third largest island in size of Greece (1 404 km ²), and the largest island of the Dodecanese , an archipelago in the Aegean Sea which includes twelve islands between the Aegean and the Mediterranean Sea.

Rhodes is also the name of the main town , it is populated by 50 000 to 60 000.

The hospitality of the people of Rhodes, the island's warm climate throughout the year, its natural beauties, historical monuments, its myths and its masterpieces, its traditional villages and picturesque character and its cosmopolitan lifestyle, modern and romantic at the same time, offer an unforgettable experience!

Rhodes is known worldwide as "The Island of the Sun," "The Island of the Crusaders" or "Island of the Knights of St. John "who have left strong traces in their famous Medieval City of Rhodes .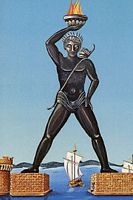 The Colossus of Rhodes , legendarily gigantic statue at the entrance of the port of the city of Rhodes was one of the seven wonders of the world.
A Mediterranean climate, a unique and diverse landscape, wonderful sea and monuments from all eras from antiquity: Rhodes is a mosaic of all these elements.
Today Rhodes is a mix of medieval and modern impresses visitors. Upon entering the city of Rhodes was a sense of a journey in time. The remains of antiquity are mingled with the ruins of the Byzantine Empire or knightly years and amidst all these relics of times past, there are also signs of modern life.
Part of the medieval city of Rhodes is classified World Heritage City, protected by UNESCO.