General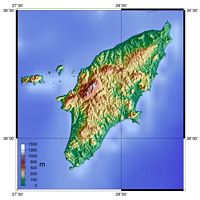 Coordinates: 36 ° 10 '00 "N, 28 ° 00' 00" E
With an area of 1 398 km ², Rhodes is the largest island of the Dodecanese and 4th in Greece.

The island is about 78 km from north to south, 38 east to west and 220 km of coastline.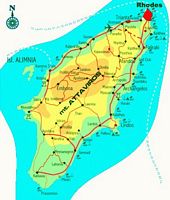 Tour de l'île - circular coastal road 200 km.

Distances between cities

From Rhodes to Lindos : 49 km, in Monolithos : 40 km; Kameiros : 157 km, to Thari : 70 km.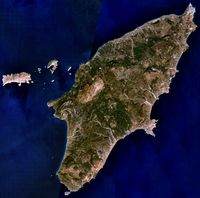 Geology: Rhodes is a continental island mainly composed of hills and plateaus.

Mountainous and rocky, it is formed south of Eocene and Cretaceous limestones folded in a direction east-north-east, central, north and east, land Pliocene.

The main mass is in the center, the Attavio (former Atabyrion) above 1200 m in the north, Saint-Elie (850 m) to the south-west Gramytis (800 m).

In the regions between the central mountain range and the coast, the terrain is mostly rugged with many valleys with gentle slopes.

It houses many sources.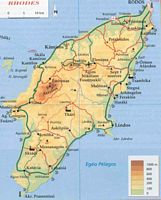 The Mount Atavyros (or Ataviros or Attavyros) culminates at 1 215 m, Mount Akramitis (or Gramithi) at 823 m and Mount Profitis Ilias (Prophet Elijah) to 798 m.
The ribs are cut slightly north, heading home Koumbournou the port of Rhodes , to the east is Cape Lindos , in the south , heading Prassonissi , to the west , heading Milianos.
Population: approximately 120,000.

Density: 83.7 inhabitants / km ²