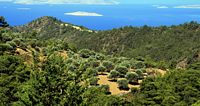 Mountainous, wooded, fertile, watered by springs and rivers, the island of Rhodes has an exceptionally diverse flora, which makes it a very colorful island.

The third of the land is cultivated, wooded another third (pines, cypresses, oaks, arbutus, mastic, myrtle).

Numerous ravines down trays, lined with oleanders, Chaste Tree and myrtles.

Fruit trees abound, olive, fig, pomegranate, orange, lemon, grapes. We harvest some wheat and barley.