Pictures
General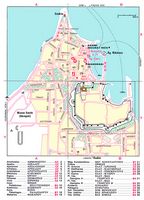 Rhodes town has two totally different aspects on the one hand, to the east, a medieval city , consisting of a maze of cobbled streets and topped arches overlap, supporting the walls shake when land, surrounded by ramparts raised by the Knights of St. John , and secondly, to the north and west, a new city consists of hotels, restaurants and nightclubs and buildings built by the Italians time of Mussolini .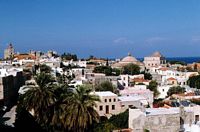 Capital cultivates originality of the island in the Greek soul, Byzantine in memory Eastern in character Greek and finally everything else.

The city of Rhodes is actually composed of three different cities:
the ancient city built in 408 BC and was restored: there are the ruins of the temple of Zeus, Athena and Apollo, the stadium, the gymnasium and the theater;
the medieval town characterized by Gothic architecture, with the Hospital, the Street of the Knights and of course the Grand Masters Palace , home of ancient mosaics and a collection of western style furniture. In the lower town, gothic architecture blends with mosques and public baths built during the Ottoman period.
the modern city is cosmopolitan, with its hotels and buildings.
But it is especially the memory of the Knights of St. John , which is the most striking. These guardians of the Holy Sepulchre in Jerusalem have built a wonderful medieval city today World Heritage by UNESCO. It penetrates through monumental gates opened in a high wall and we discover through the maze of old streets beautifully preserved architecture of the fortress of Grand Master's Palace or the Street of the Knights , with its old inns Stone decorated with the arms of different houses.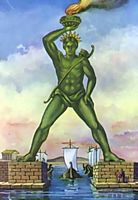 It is not far from where stood the famous Colossus of Rhodes , one of the Seven Wonders of the ancient world today symbolized by the two columns surmounted, one of a deer, the other a doe , which guard the entrance to Mandraki port , surrounded by medieval forts, ancient mills, the slender minarets of mosques and palaces of Venice.
History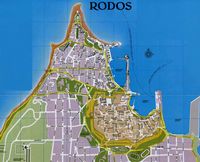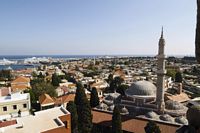 Inhabited since ancient times, the island of Rhodes participated civilizations, wind, and Dorian. For cons, the foundation of the city itself, the work of Hippodamos of Miletus , only dates from 408 BC. But the city quickly became a major importance, becoming a major maritime power and the center of Hellenistic civilization flourished. It is also at this time that was erected the famous Colossus of Rhodes , one of the seven wonders of the ancient world, but an earthquake destroyed fifty years after its construction!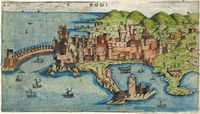 The city became part of the Eastern Roman Empire before becoming between 1309 and 1522, the capital of the Hospitaller Order of St. John of Jerusalem . It was taken by the Turks in 1522, after a memorable siege, it was then part of the Ottoman Empire until 1912.