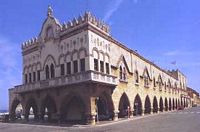 The island of Rhodes remained under Ottoman rule until 1912, when it was conquered by the Italians during the First World War.

In September 1911, Italy declared war on the Ottoman Empire in order to conquer the three provinces that the Turks still held in Africa, which are now known as Libya. The conquest of Libya proved more difficult than expected, and in order to force the Ottoman Empire to ask for peace, Italy, which had a total naval supremacy, landed at Rhodes, and in a few days, occupied the island. The Italians also occupied the island of Kos and ten other islands: these islands were known as the Southern Sporades were renamed Dodecanese their current name. Possession of the Dodecanese from Italy was recognized by the Treaty of Lausanne of July 1913.

The legacy of Fascist Italy is especially visible in the new town. This Art Deco building is characterized by simple shapes with rounded corners. The Italians have left well over 30 years in construction than their predecessors in almost four centuries: they must include the restoration or reconstruction of a number of medieval buildings, but also the road network of the island, which the two main roads.

Important archaeological work, excavations and restorations were undertaken by the Italians, including the release of the Acropolis and the rebuilding of the Palace of the Grand Masters that can still be admired today.

The Italians dominated the island until 1943, replaced by the Germans in the fall of Mussolini. The war ended in May 1945 in Rhodes.

The island was then administered by the British at the end of the Second World War until 1948.