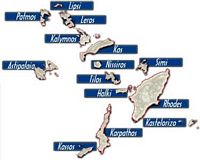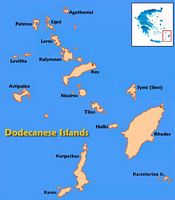 The Dodecanese is an archipelago located in the southeastern part of the Aegean Sea .

Dodecanese means "twelve islands" (Dodeka nisia,Δωδεκάνησα), but they are actually fourteen, and even counting the 200 islands, of these 200 islands and islets only 27 are inhabited.

The fourteen main islands are: Astipalaia, Halki, Kalymnos, Karpathos, Kassos, Kastellorizo, Kos , Leros, Lipsi, Nisyros, Patmos, Rhodes , Symi and Tilos.

The Dodecanese is also called Southern Sporades.

Area: 2 714 km ²

Population: 200 452 inhabitants, more than half of the island of Rhodes .

The capital of the Dodecanese is the city of Rhodes .