General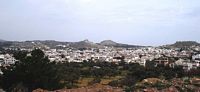 In the Valley of Aithona, famous for its orange groves, the village is a picturesque village Archangelos and full of life, always keeping its old appearance, the concrete had attacked the lower village.

You can visit the church of Saint-Jean frescoes of the fifteenth century, the church with its tall steeple Taxiarques and the Church of St. Theodore (outside the village) with its frescoes dating from 1372.

The stopover is ideal for bring back some memories: there are workshops manufacturing traditional rugs hand-woven and earthenware (ceramic). Archangelos is also known for its rustic leather boots color.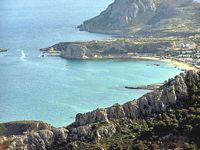 A small road leads to the beautiful sandy beach of Stegna .
Coordinates: Latitude: 36.208382 (36 ° 12 '30 ") N, Longitude: 28.139849 (28 ° 8' 23") E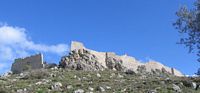 The village is dominated by Archangelos a small fortress built on the ruins of a Byzantine castle, the fortress is the work again of the Knights of Rhodes . Its shape is not regular because she married the relief of the rock. The destination of this fortification was to protect the villagers in case of pirate attack.

The fortress of Archangelos part of a system of fortifications built after 1453 to face the Ottoman threat. It bears the coat of arms of Grand Master Orsini (from 1467 to 76, blazon left) and Zacosta (1461 to 67, crest right).