General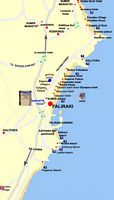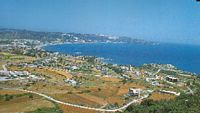 Faliraki is a former fishing village has become a tourist resort development extraordinary.

The beaches are well equipped and have the necessary equipment for water sports.

Its sandy beach is one of the largest on the island, and the most equipped of the island, offering all the distractions of vacation, bungee jumping in archery, to a large variety of water sports.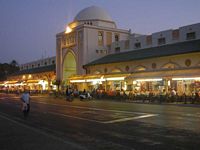 There are souvenir shops, cafés, but especially bars and nightclubs. Its nightlife is very intense.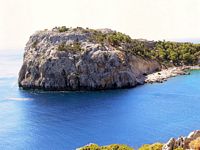 Just beside is Anthony Quinn bay. The bay is named after the actor who became famous in the movie "The Guns of Navarone", shot in Rhodes , near Lindos .

It is located 3 km from Faliraki beach and 15 km from the city of Rhodes . A tavern fish can eat.

Coordinates: Latitude: 36.323701 (36 ° 19 '25.3 ") N, Longitude: 28.212376 (28 ° 12' 44.5") E
The small sandy beach of Ladikos offers crystal clear waters and rocky framework, which is one of the most beautiful beaches of Rhodes.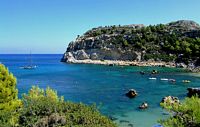 The place is very popular with Italians and Greeks (especially in August).
Coordinates: Latitude: 36.320277 (36 ° 19 '12 ") N, Longitude: 28.205101 (28 ° 12' 18") E
A little further south, halfway Faliraki and Afandou the pebble beach Traganou is embellished on his left impressive caves.

Coordinates: Latitude: 36.308901 (36 ° 18 '32 ") N, Longitude: 28.192055 (28 ° 11' 31") E
Nearby, crowning proudly following a mountain peak is lowered almost to the sea, are the ruins of the castle of Erimokastro ("Desert Castle"), cyclopean fortress with large polygonal masonry, of which there remains the entry and part of the fortifications.
Location
General Information
General
Weather forecast
Over the years, Faliraki became the rendezvous of British tourists. In pubs seafront, imported beer flows. Not without cause serious overflows (fights, rape, accidental deaths) and the ire of the Athenian press criticizes French tour operators organize annually by the exodus of "hooligans of Manchester." Behavior soiffards of Her Majesty has even led Scotland Yard to send there thirty of its agents led by Inspector Rhodes (!) to help the local police.
Filiation of the topics
More detailed topics
Close topics
The village of Koskinou, Rhodes
The Baths of Kalithea, Rhodes
The village of Kalithies, Rhodes
The village of Faliraki, Rhodes
The village of Psinthos, Rhodes
The village of Afandou, Rhodes
The village of Archipolis, Rhodes
The village of Kolympia, Rhodes
The valley of the seven springs, Rhodes
The Monastery of Tsambikas, Rhodes
The village of Archangelos Rhodes
The village of Charaki, Rhodes
The village of Kalathos, Rhodes
The village of Pylona, Rhodes
The village of Vlicha, Rhodes
The town of Lindos, Rhodes
The village of Pefkos, Rhodes
The village of Lardos, Rhodes
The Monastery of Tharri, Rhodes
Broader topics
Home page
Interactive Map of Rhodes Island
Tourist information Rhodes
The geography of Rhodes
The history of Rhodes
The city of Rhodes, Rhodes
The west coast of Rhodes
The east coast of Rhodes
The southern coast of Rhodes
The flora and fauna of Rhodes