| | | |
| --- | --- | --- |
| | The site of Ialyssos, Rhodes | |
General
On Mount Filerimos, the ancient city of Ialyssos occupying a beautiful site overlooking the coastal plain. Ialyssos was one of the three ancient cities of Rhodes , who belonged to the Dorian incorporated with Hexapole Lindos , Camiros , Kos , Cnidus and Halicarnassus .
Location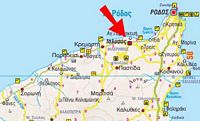 Since Trianta , a road lined with cypress trees leads to the archaeological site of Ialyssos

(Ιαλυσός)

(6 km). To the right of the entrance, a staircase descends to the ancient fountain decorated with four lions' muzzles.
History
Ialyssos, ancient Ialyse, was one of the first cities of the island there are more than 3000 years. The area was first settled by the tribe of pre-Hellenic Cares, which were followed by the Phoenicians. She was also known to the Minoan and Mycenaean periods.
In the fifteenth century BC, the Minoan coastal city Achaia was destroyed by a natural disaster, and transferred to the foot of Mt. The Dorians Rhodes ousted the Phoenicians in the

tenth

century BC and the city was again moved to the coast in the direction of Kremasti . She took the name of Ialyssos - a grand-son of Helios, the sun god.

Ialyssos took part in war until 412 BC Athenian

The city declined considerably after the founding of the city of Rhodes in 408 BC, to which it gave the greatest number of people, only the acropolis was an excellent strategic position survived a few centuries.
Characters
Protogenes painter of the second half of the

fourth

century BC?
Protogenes Caunos was from Caria, but he lived mostly in the island of Rhodes.

He was an artist very conscientious and scrupulous, which produced little. It has long been poor and unknown, and it is reported that, until about the age of fifty, he had to create resources in decorating vessels.

According to a tradition, Protogenes set, seven, eleven years to run its array of Ialyssos, representing the hero protector of the city, and went elsewhere for his masterpiece. At the time of Pliny the table Ialyssos was carried to Rome by Cassius and placed in the Temple of Peace, where he was burned under Commodus.
Diagoras of Rhodes
Ialyssos is also the home of boxer Diagoras of Rhodes

(Διαγόρας ό Ρόδιος),

Olympic champion in the fifth century BC, celebrated by Pindar.
Architecture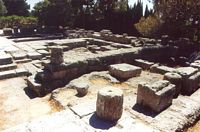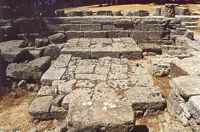 The ruins of a Doric temple dedicated to the goddess grand Polias Athena (Minerva) and Zeus

(fourth

century BC), erected on the site of an ancient sanctuary of Phoenician origin.

The ruins of the temple of Athena themselves are half covered by the remains of an early Christian basilica with three naves.

The temple was approximately 23 m long and 12 m wide.
Symbols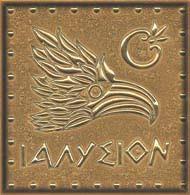 Emblem of the Municipality of Ialysos (Ialyssos name is officially used for the city

(δήμος),

while the word Trianta is rather reserved for the modern city):

The eagle symbolizes strength while pomegranate evokes luck and prosperity, traits that characterize clearly the development of the city of Ialyssos during the sixth and fifth centuries BC
Filiation of the topics
More detailed topics
Close topics
The village of Ixia, Rhodes
The village of Trianta, Rhodes
The site of Ialyssos, Rhodes
Mount Filerimos, Rhodes
The village of Kremasti, Rhodes
The village of Paradissi, Rhodes
The village of Maritsa, Rhodes
The village of Theologos, Rhodes
The village of Soroni, Rhodes
The village of Kalopetra, Rhodes
The valley of Butterflies, Rhodes
The site of Camiros, Rhodes
Mount Profitis Ilias, Rhodes
The village of Salakos, Rhodes
The monastery of St. Nektarios, Rhodes
The village of Eleoussa, Rhodes
The monastery of St. Nicholas Fountoukli, Rhodes
The village of Profitis Ilias, Rhodes
The village of Platania, Rhodes
The village of Apollona, ​​Rhodes
The village of Skala Kamirou, Rhodes
The island of Halki, Rhodes
The village of Kritinia, Rhodes
The village of Emponas, Rhodes
The monastery of St. Nicholas, Rhodes
Mount Atavyros, Rhodes
The village of Agios Isidoros, Rhodes
The village of Siana, Rhodes
Mount Akramitis, Rhodes
The village of Glyfada, Rhodes
The village of Monolithos, Rhodes
Broader topics
Greece
Interactive Map of Rhodes Island
Tourist information Rhodes
The geography of Rhodes
The history of Rhodes
The city of Rhodes, Rhodes
The west coast of Rhodes
The east coast of Rhodes
The southern coast of Rhodes
The flora and fauna of Rhodes