General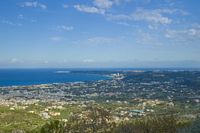 Triánta is a village surrounded by orchards. You can visit Byzantine churches, including the Church of the Dormition of the Virgin Mary, Mother of God

(Kimissistis Theotokou)

church famous for its carved iconostasis.

Trianta is a modern city which has supplanted the ancient Ialyssos . Trianta (thirty in Greek) owes its name to thirty people who founded Ialyssos.

Nowadays, Trianta is a cosmopolitan resort. Groups Ialysos hotels located in agglomerations Trianta and Ixia(Ιξιά), welcome thousands of visitors during the whole year, with a peak attendance from March to October. Trianta beaches and neighboring Ixia are among the popular international destinations for fans of windsurfing, kite-surfing and sailing.

Night, full of light and excitement through a multitude of cafes, bars and Greek taverns located in the center of cities and Trianta Ixia, satisfy all tastes.

In the city totaled number of elegant mansions of neoclassical style, most of which were built at the behest of wealthy Rhodian merchants. A moment requisitioned during the Italian domination by Italian officials, these beautiful houses are now inhabited by families Rhodian. Many homes and fortified manor houses dating from the time of the Knights there are of particular interest.
Location
General Information
Restaurants
Your Kioupia
Madness not to miss the local dishes are highlighted with sensitivity and creativity. Formula of season: excellent pila out of the oven, minestrone olive oil, yarrow soufflé. Greek became larger map. One of the most renowned of the Aegean Sea. Home polished.
Address: Argonayton 12, Ialyssos, 85101 (direction Faliraki, after the village of Tris (Alpha panel))
Phone: 00 30 22410 93448
Email: info@takioupia.com
Reservation recommended.
Filiation of the topics
More detailed topics
Close topics
The village of Ixia, Rhodes
The village of Trianta, Rhodes
The site of Ialyssos, Rhodes
Mount Filerimos, Rhodes
The village of Kremasti, Rhodes
The village of Paradissi, Rhodes
The village of Maritsa, Rhodes
The village of Theologos, Rhodes
The village of Soroni, Rhodes
The village of Kalopetra, Rhodes
The valley of Butterflies, Rhodes
The site of Camiros, Rhodes
Mount Profitis Ilias, Rhodes
The village of Salakos, Rhodes
The monastery of St. Nektarios, Rhodes
The village of Eleoussa, Rhodes
The monastery of St. Nicholas Fountoukli, Rhodes
The village of Profitis Ilias, Rhodes
The village of Platania, Rhodes
The village of Apollona, ​​Rhodes
The village of Skala Kamirou, Rhodes
The island of Halki, Rhodes
The village of Kritinia, Rhodes
The village of Emponas, Rhodes
The monastery of St. Nicholas, Rhodes
Mount Atavyros, Rhodes
The village of Agios Isidoros, Rhodes
The village of Siana, Rhodes
Mount Akramitis, Rhodes
The village of Glyfada, Rhodes
The village of Monolithos, Rhodes
Broader topics
Home page
Interactive Map of Rhodes Island
Tourist information Rhodes
The geography of Rhodes
The history of Rhodes
The city of Rhodes, Rhodes
The west coast of Rhodes
The east coast of Rhodes
The southern coast of Rhodes
The flora and fauna of Rhodes