Pictures
General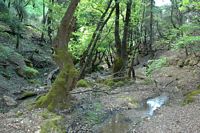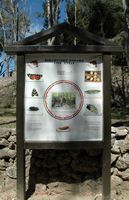 "Valley of the Butterflies

"Petaloudes

(η

κοιλάδα των

πεταλούδων)

is a

narrow rocky valley a mile long, humid and heavily forested, including pine and aliboufiers.
Location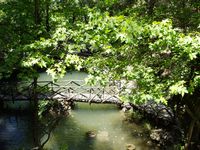 The Valley of the Butterflies is a place of remarkable beauty forest with waterfalls, ponds, streams, wooden walkways and shaded paths that bring freshness and calm.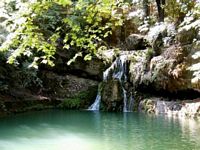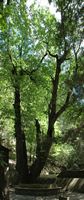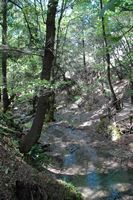 During the summer months, June to September, this valley houses impressive clouds of red and brown butterflies, attracted by the sweet scent of leaves aliboufiers. When walking on the path climbing along the river, we see nothing: he must approach the rocks or bushes to see these butterflies. But at the slightest noise, millions of butterflies fly by clouds of foliage of trees and bushes.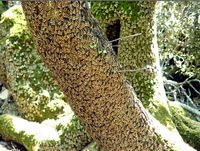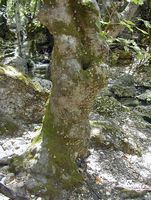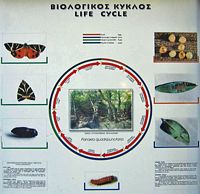 Butterflies that live in this valley fees belong to the species

tiger moth

(Callimorpha

quadripunctaria, syn.Euplagia quadripunctaria)(Callimorpha

= "scale-like"

quadripunctaria

= "4 points").

Dark brown when installed, mottled scales show flying colors black, brown, white and red.

It was towards the end of the summer spawning that takes place, in April, the caterpillars hatch, and after metamorphosis, which occurs in June, butterflies spend the summer in the valley.

The presence of this species of butterfly in the precise location of Rhodes is due to a special botanical is the only site where Rhodes aliboufiers grow with balsamic sap attracts the butterflies.

Tiger moth population has declined sharply in recent years due to site traffic.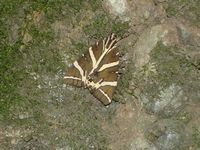 The aliboufiers

(Styrax officinalis)

secrete a resin ("storax" or "benzoin") appreciated in perfumery and pharmacy, which has the smell of vanilla and is used by local churches for the manufacture of incense. The name "storax" is also used improperly to refer to the resin of Liquidambar.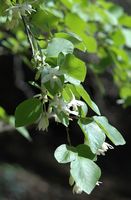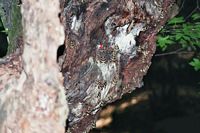 General Information
General
GR - 651 06 Kato Kalamónas
Phone: 00 30 22410 23255
Visiting hours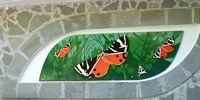 Opening hours July-August: 8 am to 19 pm; May-June and September: 8 am to 18 pm; April and October: 8 am to 16 pm - closed from November to March.

Please do not disturb the butterflies ...

Rates from July to August: € 3; May-June and September-October: € 5 (free in April).
Filiation of the topics
More detailed topics
Close topics
The village of Ixia, Rhodes
The village of Trianta, Rhodes
The site of Ialyssos, Rhodes
Mount Filerimos, Rhodes
The village of Kremasti, Rhodes
The village of Paradissi, Rhodes
The village of Maritsa, Rhodes
The village of Theologos, Rhodes
The village of Soroni, Rhodes
The village of Kalopetra, Rhodes
The valley of Butterflies, Rhodes
The site of Camiros, Rhodes
Mount Profitis Ilias, Rhodes
The village of Salakos, Rhodes
The monastery of St. Nektarios, Rhodes
The village of Eleoussa, Rhodes
The monastery of St. Nicholas Fountoukli, Rhodes
The village of Profitis Ilias, Rhodes
The village of Platania, Rhodes
The village of Apollona, ​​Rhodes
The village of Skala Kamirou, Rhodes
The island of Halki, Rhodes
The village of Kritinia, Rhodes
The village of Emponas, Rhodes
The monastery of St. Nicholas, Rhodes
Mount Atavyros, Rhodes
The village of Agios Isidoros, Rhodes
The village of Siana, Rhodes
Mount Akramitis, Rhodes
The village of Glyfada, Rhodes
The village of Monolithos, Rhodes
Broader topics
Home page
Interactive Map of Rhodes Island
Tourist information Rhodes
The geography of Rhodes
The history of Rhodes
The city of Rhodes, Rhodes
The west coast of Rhodes
The east coast of Rhodes
The southern coast of Rhodes
The flora and fauna of Rhodes