General information
Funchal is at the same time a city (

cidade

) and a municipality (

municipio

); it is the chief town of the Madeira and the autonomous region of Madeira which gathers the islands of the archipelago. It is also the only big city of the island. Surface of the east city 76.25 km ², and it counts 103,962 inhabitants (2001).

Funchal counts ten parishes: Imaculado Coração of Maria, Monte, Santa Maria Maior, Santo António, Santa Luzia, São Gonçalo, São Martinho, São Pedro, São Roque and Sé.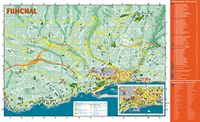 Etymology
Funchal comes from the word

funcho

which means Portuguese fennel. Indeed, when the first Portuguese discovered the Madeira at the

15th

century, of wild fennel, a grass with the sweetish odor, pushed in abundance with the site of the current city.