Igreja de Nossa Senhora da Luz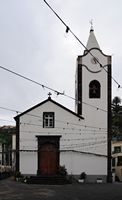 The parish church

Nossa Senhora da Luz

(

16th

century), open on a terrace to mid--slope, has a Gothic severity, somewhat softened by the interior baroque.

Blue, yellow and white azulejos brighten the walls, and, as in Calheta and Funchal, a marvellous ceiling mudéjar out of wood of worked painted cedar covers the nave. The church has a triptych of the Flemish school and various objects silver of 17th and 18th century (of which a lamp of furnace bridge and a silver statue representing Our Lady). King Manuel 1st gratifia also this church of a baptistry. The bell-tower is covered with azulejos.
Lombo da Ponta do Ground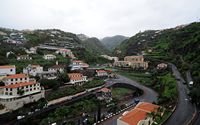 Small town living of its banana plantations; it has a pretty vault related to the memory of Christophe Colomb.

At the top of a hill, well in sight, draw up the buildings of the field built by João Esmeraldo with which Christophe Colomb bound friendship. This grower made fortune at low prices by buying the black slaves whom it then made work in his plantations of cane. At the beginning of the 16th century, it made raise, beside its scutellate residence (today in ruin), the capela do Espirito Santo (vault of the Holy Spirit). Rebuilt in 1720, it presents a Renaissance frontage and baroque to the trefoil gate. The interior is decorated glowing furnace bridges baroques and of panels of azulejos representing the virtues.