Pico back Barcelos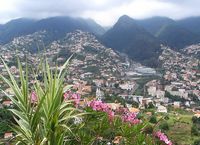 Terrace, surrounded by aloe and abundantly flowered, arranged at the top of

Pico back Barcelos

(altitude 355 m), the sight extends:
in north, on the small church with the two white bell-towers of Santo Antonio tapi in the green valley around its church,
in the east: on all bay of Funchal;
in the south, on the hillock and the profile of the tower of

São Martinho from

which the church is detached on bottom from marine horizon;
in the west, on the site of Câmara de Lobos.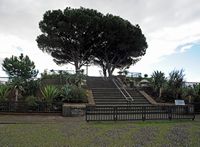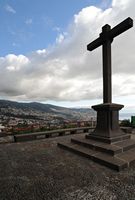 Igreja Nova
The new parish church, built in 1927, rises on a hill to 259 m of altitude, and orders all the landscape of the west of Funchal. It is one of the vastest religious monuments of the Madeira.
Capela da Nazaré
The vault of Nazareth was founded in 1627 by Martim Vaz de Caires; it presents a gate characteristic of the

17th

century.

The porch of the vault supported by pillars of brown lava hiding place an interior covered with figurative, blue and white panels of azulejos, 17th century. They recall scenes of the life and history of the Portuguese littoral.

A famous scene represents the legend of the rider of Nazareth: the horse precipitates at the edge of cliff, but the man beseeches Our Lady, who saves it in extremis unquestionable death by stopping the animal.