Igreja da Encarnação
After having crossed the bridge, while taking on the left in the

rua 31 of Janeiro

then while turning right in the

rua da Ponte Nova

, one arrives not far from the church of the Incarnation, which dates from the 16th-

17th

centuries. This building with ogival architecture manuéline is very modest of aspect, but its pretty side gate and its vault on intersecting ribs, the "dome of the spiders" (

abóboda of aranhiço

), are worth the glance. The church of the Incarnation belonged to the convent of Our Lady of the Design (demolished since), being used as parish church of the parish of Santa Luzia.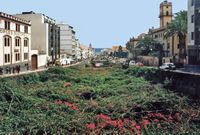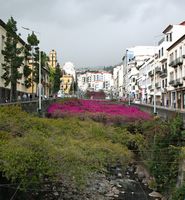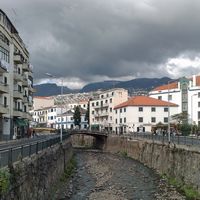 Flood of February 21st, 2010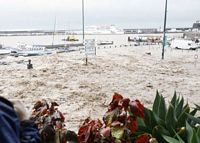 Mercado back Lavradores
While following

will ribeira

it

of Santa Luzia

in the direction of the sea then by taking on the left a long commercial street (

rua Fernão Ornelas

), one crosses this time

will ribeira

it

of João Gomês

. Opposite, in the open air draws up the large market of Funchal, surrounded by stalls of merchants (fabrics, embroideries, and many other things). It is the Market of the Plowmen, where the coloured exuberance of the traditional costume of commercial of flowers joins the exotic diversity of the subtropical fruit and vegetables. On the fish market, the

peixes espadas

and the enormous tunas are attraction, among other more common species.

Installed in a building with open sky of two floors builds in 1941, this "market of the plowmen (or the workers)" is a monument as well as the cathedral, and all the population is found there. The morning especially, the place is full with colors, noises and odors. It should be said that it shelters at the same time the fish market, with the fruits and the flowers; stalls of butchery surround the outside of the market, like some shops of basket making and craft industry.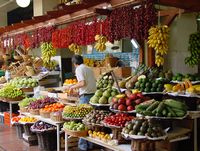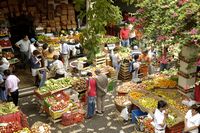 Terrace which girdles the court, one overhangs the marked out central court of arcades where are laid out the baskets charged with bananas, mangos, of anones, of maracujas, lawyers…, multicoloured, as well as the sector reserved for commercial of flowers dressed in the traditional costume madérien (striped skirt, corselet, leather boots) which propose multicoloured bouquets. The spices and the foodstuffs such as wine, pork-butchery and cheese but also basket making and other memories are proposed with the sale in the galleries which surround the court.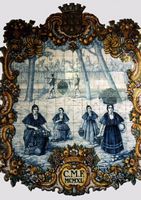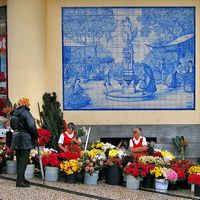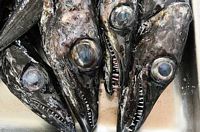 The noisy fish market occupies a whole hall in the low part of the same building, at the opposite end. It is a world except for, much more turbulent, made interpellations, shouts and odors, where customers and merchants affairent themselves around tunas which one details and of the bodies of a shining black of the sabers, rolled up on themselves.

The market is open Monday to Saturday but it is worth especially the sorrow to be considering Friday or Saturday, when the farmers and the merchants of all the corners of the island invade the city to sell their goods.

Coordinates: Latitude: 32.65251 NR; Longitude 16.901522 O