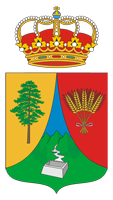 The origin of this pretty town in Tenerife is very old. Mr.

de la Torre

, the chronicler of

Garachico

, we said that it contained dice 1605 a church dedicated to

San Antonio

which was built, according to

Alfredo Reyes Darias

in 1596. There was certainly before that a small hermitage, annex

San Pedro de Daute

from 1540, but we do not know the date of construction.

The people asked the bishop Francisco de Villanueva make this church a parish and obtained succeed April 16, 1642. El Tanque then became totally independent of Garachico in civil matters as it had for some time already its own mayor, appointed by the "Corregidor", the royal magistrate of the island.

In 1706 took place the terrible volcanic eruption that was going to cause so much damage in the region of Garachico. After destroying the vineyards, wheat fields and the magnificent groves that grew green slopes from this desolate rock, after consuming all water, after reducing the entire region to a horrible fields slag, lava flows destroyed as the church, causing many casualties. A civilian building during dice is used for religious services, La Alhóndiga, the corn until the church's reconstruction.

This town has experienced significant emigration, which is why she has another patron Nuestra Señora del Buen Viaje.

The natural park of forest crown defines much of the south and east of the town which includes a small region of rural park of Teno. Included in this area many traces of recent and historical volcanism, especially in the footsteps of the volcano Chinyero (1909) and especially Arenas Negras (1706) with its lava flows.

Finally,

El Tanque

is the opportunity to admire the spectacular scenery as the laundries of

Atalaya

whose belvedere overlooking the cliffs of the

Culata

.