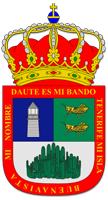 Buenavista del Norte

is one of the few towns to the Canary Islands to have its foundation charter, granted by the Lieutenant Governor of

Tenerife

,

Cristóbal Lebrón

and "

regidor

" (sort of alderman)

Fernando de Llerena

, on request residents represented by

Juan Méndez

"

El Viejo

" and

Juan de Mesa

.

The oldest document referring to this village and that proves its existence as a Council is a deed dating from August 1516.

From the very beginning of colonization of Tenerife, in the early years of the sixteenth century, the town gradually takes shape with the arrival of a considerable flow of people coming to settle there, attracted by the farmers in farming already installed in the area for the cultivation of sugar cane.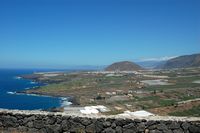 The municipality of Buenavista consists of a vast plain covered with banana plantations and fruit trees to the rocky massif of Teno, ravines carved steep and almost inaccessible coves.
Buenavista del Norte is a primarily agricultural municipality, the ancestral habits, such as how to measure the passage of hours thanks to the shadows of the cliffs, where one can see a clear Hispanic influence.
The isolation in which lived some areas of the municipality has to take traditional forms of life.
Buenavista del Norte, with its streets of Andalusian style, is a town where there is absolute calm and where nature-related activities are omnipresent.