From the island capital,

Arrecife

, the circuit can start by leaving the city to the north by the LZ-1 road to the village of

Tahíche

; to

Tahíche

is the former home of

César Manrique

, which became the foundation

César Manrique

, a symbolic beginning of a circuit that is full of artist's achievements, and to his final resting place.

Continuing north through the LZ-10 highway is achieved the historic capital of Lanzarote, the city of Teguise, which is almost a museum town whose downtown is classified as a historical monument; a little away from the city the castle of Santa Bárbara offers beautiful views over the center of the island.

After Teguise can be a return to the coastal village of Caleta de Famara and its popular beach among windsurfing lovers. After returning to Teguise, we take the LZ-10 heading north-east to the village of Los Valles and the chapel of Ermita de las Nieves. On the right we see a wind farm.

The following stops will be the viewpoint of Los Helechos and viewpoint Haría that offer magnificent views of the city of Haría and the "Valley of Thousand Palms". The visit of Haría can then be done in an hour.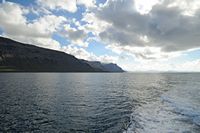 In Haría it turns left on the LZ-201 road; the first stop can be done Guinate where a viewpoint that allows a first view of the island of La Graciosa and the archipelago Chinijo; there are also a wildlife park, the Parque Tropical.
A few kilometers after Guinate it turns left on the LZ-202 road towards Rio belvedere which offers magnificent views of the archipelago Chinijo, but admission is charged.
We leave the Mirador del Río by the LZ-203 road to the village of Yé where we find the LZ-201 road that we follow for 3 km until the junction towards the LZ-204 road to the village Órzola. Órzola is the port connection with the island of La Graciosa, but also has good fish restaurants.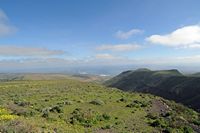 After Órzola found the LZ-1 road heading south along the coast of the Malpaís de la Corona; we get to Jameos del Agua, pits built into a cultural center by César Manrique. 800 m to the west we can also visit the cave Cueva de los Verdes.
Continuing south we reach the village of fishermen Arrieta, who has good fish restaurants and the village of Guatiza where a Cactus Garden, a botanical garden with many species of cacti and euphorbias.
We will return to Arrecife by LZ-1 possibly making a detour to the resort of Costa Teguise.