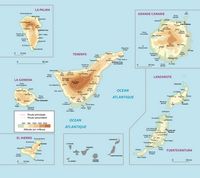 The Canary Islands are located in front of the north coast of Africa. They are bathed by the Atlantic Ocean. This insular autonomous community consists of seven major islands, which are

Tenerife

,

Fuerteventura

,

Gran Canaria

,

Lanzarote

,

La Palma

,

La Gomera

and

El Hierro

and other minor islands as including the islands of

Graciosa

,

Alegranza

and

Lobos

that are around Lanzarote.

The archipelago stretches over 450 km with a total area of ​​7 442 km².

The coasts are intersected, generally, by vast sandy beaches defended by reefs, capes and bays. However, one can find in some areas, like the west and north coasts of Gran Canaria, many cliffs and other steep areas.

The volcanic landscape is the common feature in the Canary Islands. On this basis, we can distinguish three regions: the central islands, the eastern islands and the western islands. The landscape from volcanism is very special, with very varied landforms (pots, cones, "malpaíses" - chaos of volcanic rocks, pipes, etc). Geologically, the islands are composed of lava and basalt with fertile soil, especially generous after the rain that is becoming increasingly rare.

The Teide, from a height of 3718 meters, is the highest point of the islands, and also the highest peak in Spain. It precedes other summits, such as Montaña Blanca (2743 meters) and the Pico Viejo (3100 meters).

The low rainfall and the topography specific to these islands are reflected in some points of water, but no major rivers. The most exposed islands to the influence of the ocean and rain La Palma and El Hierro.

For historical and political reasons, the Canary Islands are part of Spain, but geographers assign them to Macaronesia, a region formed by volcanic archipelagos gathering the Azores, Madeira and Cape Verde.