Church of St. John the Baptist (

Iglesia de San Juan Bautista

)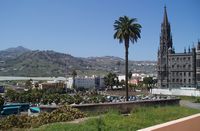 The Church of St. John the Baptist is a Catalan Gothic Revival building of the nineteenth century, begun in 1909 and completed in 1977. It was built entirely of stone, the blue basalt Arucas by the master tailors the resort, under the guidance of architect

Manuel Vega

.

At its high towers and pinnacles, beautifully carved, of thirty meters in height, wealth offered by the labor columns and capitals add beautiful stained glass windows and works of the Canarian painter Cristóbal Hernández de Quintana and as well as a extraordinary wood carving of the recumbent Christ (Cristo Yacente) sculptor from Arucas Manuel Ramos.
The Garden of the Hesperides
The Garden of the Hesperides where a mansion of the eighteenth century French neoclassical style, has a hundred Australian palm trees, a small lake filled with waterlilies, ancient dragon and a royal palm thirty meters high.
The Lookout Mountain Arucas (

Mirador de la Montaña de Arucas

)
From the viewpoint of the Mountain of

Arucas

where a restaurant is located, one can contemplate spectacular panoramic views of the four cardinal points of the island.
The Town Hall (

Ayuntamiento

)
The Constitution Square are City Hall and the Municipal Market.
The House of Culture (

Casa de la Cultura

)
The Culture House is set in a traditional Canarian house of the seventeenth century has an interior patio surrounded by balconies and a magnificent specimen of dragon. This building also houses the Library and the General Archives (

Biblioteca y Archivo General

).
The house Guria (

Casa de Gourié

)
Guria House, built in the early nineteenth century, is the former home of Majorat of

Arucas

(

Casa del Mayorazgo d'Arucas

) and currently houses the Municipal Museum of

Arucas

and the Tourist Office. It is surrounded by beautiful gardens.
The house and the garden of the Marchioness of

Arucas
The House and the Garden of the Marquise is a natural and architectural ensemble interesting. The house was built in 1880 and the vast Romantic-style gardens that surround it can be visited.
The career of "

La Goleta

"
The career of "

La Goleta

", located close to the old city, is one of the historic quarries of the city where you can buy small craft souvenirs made ​​with the famous blue stone of

Arucas

.
Rum Museum
Rum Museum can be considered one of the historic buildings in the city because of the tradition of this activity in the locality. The cellar, inside, is remarkable; this is one of the largest in Europe and has been visited by many personalities who left their signature on the oak.
The beaches
The main beaches of the municipality of Arucas are: beach

Bañaderos-El Puertillo

and the beach of

San Andrés

. Both are pebble beaches and sand. Despite the wave characteristic of the region, are popular beaches by the population of North Island.