The Saint James Church (

Iglesia de Santiago

)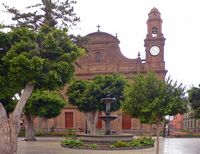 The parish church of Saint James in

Gáldar

is one of the most beautiful of the Canary Islands; it is considered as the link between the baroque and the first neo-classicism of the Archipelago.
The Painted Cave (

Cueva Pintada

)
The city of

Gáldar

shows us some of his distant past in its Archaeological Park

Cueva Pintada

(Painted Cave's) located in the city center, on the square opposite the church.

La Cueva pintada was discovered in 1873 in the city Gáldar near the place where, before the conquest of the island of Gran Canaria by the Spaniards, was an old Canarian palace. This was one of the most important rock art discoveries of the Atlantic area.

The cave contains ceramic vessels which are assumed to have been deposited in the graves and human skeletons. But the most remarkable are the geometric patterns made of many colors there are almost 2 000 years and covering the interior walls. This is the most valuable cave paintings found on the Canary Islands.

Around the Cueva Pintada you can see the old village which was the palace of the former "guanartemes". We know that the stones of the walls, then used to build the church in the city, were perfectly cut and assembled level, dry, without any kind of mortar.

After being closed to the public for 25 years, the Cueva Pintada is again accessible to the public. It is now part of an archaeological park with a museum where visitors can learn the culture and daily life of the first inhabitants of the Canary Islands.
The beach of the

Agujero

(

Playa del Agujero

)
Near the

Playa del Agujero

(Hole Beach), are the remains of a village of ancient tribes of Gran Canaria; they are one of the largest concentrations of houses and tombs in this part of the island. In that same set is a necropolis in which are preserved some of the most significant burial mounds of Gran Canaria.
The beaches
Gáldar

is one of the villages in the northern region of Gran Canaria with the largest number of beaches include those of

Boca Barranco

and

Sardina

.
Mountains
On the hills of the municipality of

Gáldar

is discovered well differentiated morphologies, the

Montañón Negro

, the

Caldera de los Pinos de Gáldar

and

Hondo de Fagagesto

are all of volcanic eruptions.