The Church of the Nativity of Mary (

Església its Nativitat Maria

)
The parish church of the Nativity is located on the only square of

Banyalbufar

.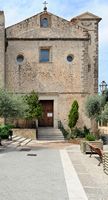 The terraced hills (

marjades

) are dotted around

Banyalbufar

, vineyards (the grape Malvasia

banyalbuferino

is very popular for the development of excellent dry white wines), orchards and vegetable gardens (tomatoes) with their typical reservoirs (

safareijos

) where it stores water for irrigation of 70 hectares of terraces (located 270 meters above sea level with 160 kilometers of dry stone walls, 18 miles of canals and 190 ponds).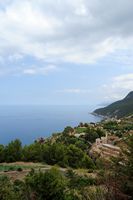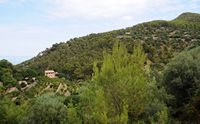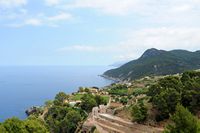 The Orchard Tower (

Torre d'Es Verger

)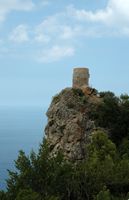 The watchtower

Es Verger

of is also called the Tower of Souls (

Sa Torre de Ses Ànimes

). From the top of the tower - difficult to access - the view extends to the south-west to the island of

Sa Dragonera

, and north-east to

Port de Sóller

.
The Cloister of the Barony (

Clastra de sa Baronia

)
The cloister and the defense tower of the old palace of

his Barony

of

Banyalbufar

seventeenth century have been converted into a small hotel located in the same town of

Banyalbufar

.
Domain of

Son Bunyola

(

Possessió de Son Bunyola

)
Former area with a tower defense sixteenth century, a chapel and a mill, located between

Banyalbufar

and

Port des Canonge

.
Port of

Es Canonge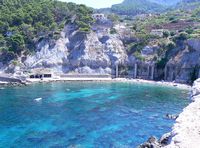 Access to the harbor of

Es Canonge

by

a small road which the branch is located at km 80 of the road

Banyalbufar

-

Esporles

. The last six kilometers pass through a winding road (hairpin bends).

From Banyalbufar, you can also walk down to the harbor Es Canonge by the path called "Sa Volta des General". Another footpath leads Es Canonge of up to Port de Valldemossa.