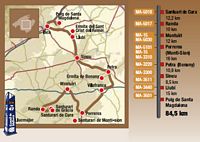 Halfway between

Algaida

and

Llucmajor

(in the county of

Migjorn

), take a detour to reach

Randa

. The road gradually descends and passes through the sanctuary of

Gràcia

, which is built under a huge rock. Later, we pass by the hermitage of

Sant Honorat

, located almost at the interior of a mansion, and near the top of

Puig de Randa

. The Sanctuary of

Cura

is placed on the top of the hill and the view is superb in all directions. At

Algaida

, north of

Randa

, we can discover the glassware

Gordiola

.

From Randa cross Montuïri to reach Porreres. The Sanctuary of Monti-sion enjoys a prime location and stunning views. Back to Porreres and head of Vilafranca. On the way to Petra, visit the hermitage of Bonany, one of the best views in the region, the hilly landscape makes it an enjoyable trip. Near Bonany, you can visit Els Calderers, a large mansion, which is now a museum depicting the life of a finca in the nineteenth century.

We then will walk in Petra, the hometown of Juníper Serra, before reaching Sineu, formerly the site of a royal palace and that has an imposing parish church, then will head to Llubí, a short distance from the chapel Sant Cristo del Remei. The landscape remains the same until Inca. Exit the Puig de Santa Magdalena to visit the sanctuary, where you can admire the view of the plains, the mountains and the coast.

Following the road along the marsh bordered with dwarf evergreen oaks, we arrive at Can Picafort, where you can visit Sa Canova Talaiot, the necropolis of Son Real, the islet of Els Porros; and Son Bauló (dolmens).

Can Picafort cross to reach Muro, an important historical town (parish and chapel).