Church of St. Margaret (

Església de Santa Margalida

/

Iglesia de Santa Margarita

)
The parish church of St Margaret was built in the sixteenth and seventeenth centuries, from 1560 to 1679, to replace a church dating from the thirteenth century (built in 1232, shortly after the Catalan conquest and mentioned in 1243), became too small because population growth of the sixteenth century.

Access to the main entrance is via a staircase built in the last third of the seventeenth century. The main portal, known as the "portal of women" is richly decorated in Baroque style, with the center a statue of St. Margaret. The tower, built between 1853 and 1855, is a square tower topped by a pyramidal structure.

The interior of the church of St. Margaret has a single nave and six side chapels. Most notable are the altarpieces, including the Gothic altarpiece of St. Margaret (second half of the fourteenth century), which is a good example of the Majorcan school Sienese influence.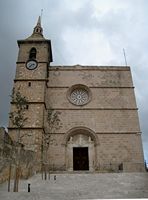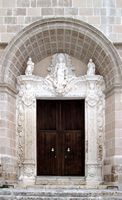 The Village of

Son Serra de Marina
Son Serra de Marina

is a small resort mostly frequented by the Majorcan population of the region, which is built small homes. The resort is much quieter than

Picafort

, located 12 km to the west, which was invaded by mass tourism.

Son Serra de Marina

has a small marina.

A few kilometers west of Son Serra de Marina is the talayotic necropolis of Son Real.