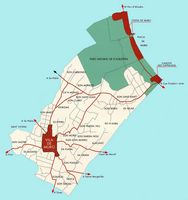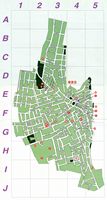 Muro

is one of the oldest cities of Majorca in 1300, she was recognized as a town (

villa

) by King Jaume

II

of Majorca. This long history

Muro

some historic buildings.

Muro is a little sleepy town, dotted with large mansions built by wealthy former landowners. However, his visit to discover the authentic island life in Mallorca.

1. City Hall

10. Arenas

11. Parish Church of St. John the Baptist

20. Bus Stop

The bus stop is located on the Place de la Constitution (Plaça Constitució) near the Church of St. John the Baptist and the Town Hall. This is where the bus stops from Palma and local buses Ca'n Picafort and Port d'Alcúdia.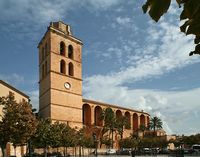 The parish of St. John Baptist de

Muro

was founded by Pope Innocent

IV

in 1248. The first church in the Gothic style, was built in the fourteenth century. The present church was rebuilt in the sixteenth century, from 1570, it has a colorful above the west door rosette, to the east, the church is connected to a bell by a thin bridge. This bell is an imposing square tower of seven levels, partly designed as a watchtower. Where it is possible to reach the top, there is a magnificent view of the coast of the Bay of

Alcúdia

.

The Church of St. John the Baptist is situated on Plaça Constitució and is open from 9:00 to 13:30 and 16:30-20:30. Admission is free.
The Ethnographic Museum of

Muro

was installed in 1965 in a former mansion of the seventeenth century,

Casa Alomar

(1670).

The museum has large collections - a bit incongruous - old tools used by craftsmen, agricultural materials, household utensils, furniture and costumes. As the Museum of Sa Granja to Esporles and the museum of Els Calderers to Sant Joan, the Ethnographic Museum of Muro, an authentic representation of traditional life in rural Majorca early twentieth century.

In the beautiful courtyard with orange trees, with typical well, you can see a water wheel, a water wheel with a horizontal axis which was formerly operated by a mule or a donkey (Sínia). The courtyard leads to blacksmith shops, a cobbler and a goldsmith, which expose the tools used by these businesses, we also see a collection of carriages.

Inside buildings, the different parts have been fitted according to their function with traditional furniture and utensils. Thus, cooking shows pots, bowls and ceramic dishes, and an ancient furnace, the bedroom is furnished with furniture Majorcan style. An apothecary shop was restored, where you can see a collection of pots and ancient remedies used for the most common ailments, as well as amazing precision balance.

Upstairs is a nice collection of "siurells" (clay whistles), painted figurines in white, green and red, created in a naive style. These figures, with a spout with a hole to whistle, depict animals, men on horseback carrying water and playing guitar, mythological figures or imaginary. These traditional whistles are now mass-produced as tourist souvenirs.

The Ethnographic Museum is located Carrer Major, 15 (number 6 on the map of the city). It is reached in a few minutes from Plaça Constitució.

Hours: Tuesday to Saturday, from 10:00 to 15:00, Thursday from 10:00 to 15:00 and from 17:00 to 20:00.

Entry fee: 2,40 €.

Phone: 00 34 971 860 647
The

Albufera

Natural Park a marshy area is located in the hinterland behind the beach of

Playa de Muro

.

The park is a popular spot for bird watchers: we can observe moorhens, coots, herons and flamingos, and many migratory bird migration season. The information office offers a map and a list of birds to watch.

You can reach the park by bus from Port d'Alcúdia.