Geography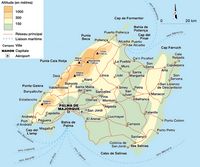 The island of Majorca, between those of Menorca and of Ibiza, is the largest of the Balearic Islands.

South of Palma, the capital, the coast is divided into creeks and bays. Off the western tip lies the great desert island of Sa Dragonera.

The northwest is bounded by the Serra de Tramuntana, a mountain whose Puig Major is the highest point (1 445 m) is the highest peak in Mallorca.

The coast of north-east consists of two large bays: the Badia de Pollença and the Badia d'Alcùdia.

In inland lies a broad fertile plain: the Es Pla.
Economy
Until the 1960s, most of the wealth of Mallorca came from agriculture. Potatoes with sausages of pork, bean with figs, from olive oil to wine, these productions have fed both Mallorca itself but were also exported to mainland Spain and beyond. Many of these traditional activities continue, although much farmland are half abandoned. As rural family fortunes declined, the phenomenon of rural tourism has emerged as a salvation to save some of the villages and manors of the country that otherwise would have quietly disappeared.
Climate
The Mediterranean climate of the Balearic Islands, Mallorca in winter is very mild (15 °C) Summer temperatures are around 27 °C.
Aircraft
You can get to the airport in Palma bus lines No. 1 and No. 21. Line 1 takes passengers to the

Plaça d'Espanya

.

By car, take the motorway Palma-Santanyí.

Airport Phone: 00 34 97178 90 00
Ferries
From the ferry terminal one can embark for the continent, the island of Ibiza or the one of Menorca :

From Palma to the mainland (Barcelona) every day. Duration: 4 or 7 hours. Price: 200 € return.

From Palma to Menorca (Mao): one shuttle Sunday morning. Duration: 5:30. Price: € 80 return.

From Palma to Ibiza (Ibiza) in high season every day in low season once or twice a week. Duration: 2:30. Price: € 180 round trip.

Information: www.trasmediterranea.es or www.balearia.com
Language
Catalan dialect spoken on the island is called the mallorqu

í

.
Crafts
Map of Roads of Craft Island of Majorca