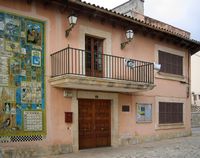 Calvià

is a small town in the southwest of the island of Majorca, but it is mainly the capital of a large town which includes a large number of resorts that have experienced phenomenal and disorderly development since the 1960s

Santa Ponsa

(about 10,700 inhabitants),

Palmanova

(about 7000 inhabitants)

Magaluf

(about 4200 inhabitants),

Paguera

(about 4000 inhabitants),

Portals Nous

(about 2600 inhabitants),

El Toro

(about 2300 inhabitants) and some others. The municipality has 14 beaches and four marinas.

The chief town of the county, appointed Calvià Vila, only about 2,400 inhabitants, while the entire town are more than 52,000 people, nearly 30% of permanent resident aliens. Thus the town has a new town, oversized, funded by profits from the tourism industry.

The municipality of Calvià is part of the county of the Serra de Tramuntana, but is very close to the island's capital, Palma.
The seaside resorts of Calvià, and, in particular, Magaluf, represent what is worse, in the 1970s, in terms of tourism development on the island of Majorca, with the construction of towers, high-rise hotels beachfront. This tourism low-end attracted many English hooligans, the situation became alarming enough that the municipality would decide in 1996 to kill twenty of the hotels in order to end - or at least control - the annual orgy "of violence, drunkenness and fornication in public" that characterized the station. The situation was somewhat sanitized, but the English hooligans are always present in Magaluf.