History
In 1343 Peter

IV

of Aragon landed on the coast of

Paguera

to reconquer the island of Majorca hands Jaume

III

.

Turkish corsair Barbarossa and Dragut were conducting frequent raids in the area known as Cala Fornells, where they captured the inhabitants, who were enslaved and later sold on the markets of Algiers area.
Literature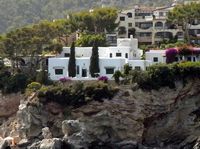 Peguera was the location for many films, the best known is "Evil Under the Sun" (

Evil Under the Sun

) by Guy Hamilton, with Peter Ustinov in the role of Hercule Poirot, the hero of the novels of Agatha Christie. Scenes from the movie were filmed in

Cala del Monjo

in a finca named

S'Estaca

, now demolished, representing the Hotel Daphne film. Other scenes were filmed at the finca

Raixa

to

Bunyola

.

Close by, in Cala Fornells, was the villa belonging to the actor Rodolfo (Rudolf) Valentino, this villa named Ca na Tacha, the name of the second wife of Valentino, "Natacha Rambova" from his stage name, is still visible in Cala Fornells.