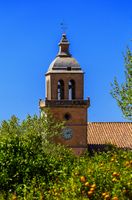 The Parish Church of the Immaculate Conception of Blessed Raymond Lull was built in the eighteenth century, from 1765 to 1770 in memory of Raymond Lully, one character closely linked to the land of

Randa

.

In the entablature, located above the door lintel of the church is a small statue of Ramon Llull, and, above, a rose polychrome glass. On the right of the facade stands a tower of five floors, with a balcony, and topped with a dome.

Inside, the nave is covered with a barrel vault. The altarpiece, late Baroque, contains an effigy of Ramon Llull. The most notable chapel is St. Joseph's chapel (capella de sant Josep) with a rococo altarpiece due to the patronage of the family Sastre d'Estahacar. Another chapel of artistic interest is the Chapel of Souls (capella de les Ànimes) where you can see the Virgin of Carmel dress richly embroidered. We also note the ancient chapel of the Immaculate Conception, which dates from the sixteenth century.

In the sacristy is preserved a tapestry that once was hung behind the altar, this tapestry shows several scenes from the life of Ramon Llull. The sacristy also presents a portrait of the theologian and religious historian Majorcan Guillem Terrassa i Ponç (1709-1778).