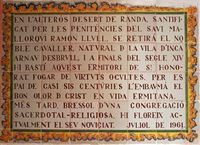 The

ermita de Sant Honorat

was founded in the late fourteenth century, a knight of the native town of

Inca

origin Selva near Inca

Arnau Desbrull

, accompanied by

Mateu Catlar

. After living for 30 years as hermits on Mount Randa, they asked, in 1394, the Bishop of Mallorca,

Lluis de Prades

, permission to build a chapel dedicated to St. Honoratus (

sant Honorat

).

Arnau Desbrull

chooses the part of the south-facing, sheltered from the winds of the Mistral and Tramontane mountain to build the chapel was consecrated January 16, 1397, as indicated by a plate placed on the site of the chapel current.

Due to the dilapidated state of the original chapel, a new chapel was built from 1654 to 1661, "by workers, jurors and the rector of Algaida". During the seventeenth and eighteenth centuries the chapel remained under the administration and protection of jurors and rectors of the city of Algaida.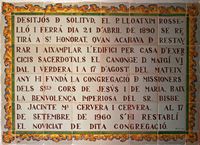 In 1763, the Diocesan Congregation of Hermits of St. Paul and St. Anthony, founded by the Venerable Joan Mir de la Concepción, made ​​an agreement with the council Algaida to settle in the hermitage of Sant Honorat and it remained there until the late nineteenth century.
In 1805 members of the Congregation of the hermitage of Sant Honorat left to found the hermitage of Betlem in Colónia de Sant Pere.
From 1860-1861 the future Blessed Francesc Palau i Quer retired to the hermitage of Sant Honorat and reorganized.
In 1890, the chapel was led by Father Joachim Rosselló i Ferrà where he founded the Congregation of the Missionaries of the Sacred Hearts of Jesus and Mary (Missioners dels Sagrats Cors / Missionaries de los Sagrados Corazones).
The building was restored in 1962.