At the bottom of the valley

Gorg Blau

, the steep sides of the

Puig Major

is visible.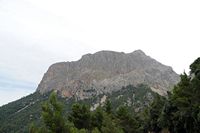 The

Puig Major de Son Torrella

is the culmination of the island of Majorca (1432 m) and all the Balearic archipelago.

Taking the left side of the road - coming from Sóller - a spectacular trail winds to the top of Puig Major, but stumbles over a fence: the top of Puig Major is indeed a military zone closed to the public, home since 1958 a NATO radar monitoring the entire western Mediterranean and North Africa.

The climb can be done in 2 hours 30 minutes on foot.