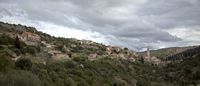 The village preserved its traditional aspect, with a Mediterranean rural architecture saved by the modern life and the spectacular framework of a karstic valley strewn with cypress.

However, the village is mainly given up, with frontages in ruin and gardens, vines and olive groves left with the abandonment. The village had more than thousand inhabitants at the beginning of the 20th century; there remain only approximately 300 today about it: the cause is the destruction of the vine by the phylloxera.
The Parish church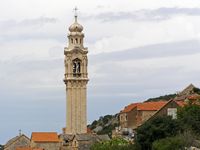 The parish church was built in 1820 in a style néo-novel, but was increased later on. This church has an interior three naves and a large apse, and presents a frontage to three rosettes laid out out of clover.

But, it is especially the spectacular bell-tower, or rather the bell-tower, independent of the church, which one notices since the road. It appears oversize for this modest village and was built - to compete with the close parishes - in second half of the 20th century (1889). Its plans were establish by Ivan Rendić, plus sculptor that architect, in a Renaissance style overloaded enough, with a cover in onion bulb rather little in harmony with Dalmatian traditional architecture. Ivan Rendić would have been active for this project by patrons, the family Nazor de Bobovišća Na Moru; its remuneration for this work would have been 24 bottles of "prošek", a fine wine of dessert, that which one drank at the imperial court of Vienna.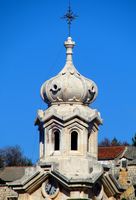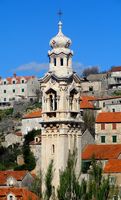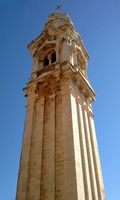 The Chapel Our Lady Stomorica (

Crkva Gospa Stomorica

)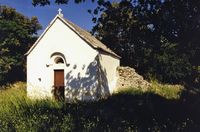 In the hamlet of Nerezine, located at the North-West of the village of Ložišća while going in the direction of Mirca, the Romance chapel of Stomorica (deformation of Latin

Sancta Maria

) is. The chapel was built at the

12th

century on a site where vestiges of Roman constructions were discovered.
The Bridge Franz Joseph (

Most Franje Josipa

)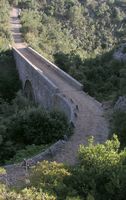 On the driving way with the chapel Our Lady Stomorica, one meets a picturesque bridge - a curiosity on this island deprived of water. This stone bridge is at the bottom of the Large valley (

Veli Dolac

), a small valley where a named river Elafuza or Bretanida ran formerly. The bridge was built at the

19th

century by the administration Austro-Hungarian; the inhabitants names it for that - and a little ironically - the Bridge Franz Joseph.