Etymology
The Postira toponym comes from the Latin word

will pastura

(pasture).

In Italian, Postira named Postire or Pastura.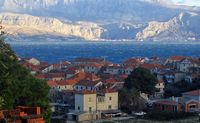 Postira is at the bottom of a broad bay on the northern coast of the island of Brač, between Supetar and Pučišća.

Postira is distant of 11 km (15 min), by the regional road, of the landing stage of the ferries of Supetar.
The Church Saint John the Baptist (

Crkva Svetog Ivana Krstitelja

)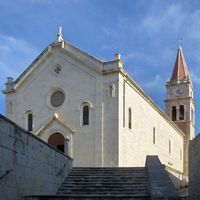 In the center of the city, the parish church Saint John the Baptist (

Sveti Ivan Krstitelj)

was built in the middle of the

16th

century in style baroque. The original building understood a massive apse in the shape of fort, with loopholes. It was deeply transformed in 1873.

Under the pavement of the church the foundations of an old church were recently discovered, with a crypt in the shape of cross below the furnace bridge, a baptistry and two cisterns.

The church presents a painting of the "Way of Cross", a work of three painters of 18th and 19th centuries, like several tables of the Venetian school baroque.

The bell-tower of the church Saint John the Baptist illustrated the first tales of the Stories of Childhood of Vladimir Nazor ("an Angel in the Bell-tower").

The patron saint of the parish, holy Jean-Baptiste, is celebrated on June 24th.
The Early Christian Basilica
In the handle of Lovrečina (Saint Lawrence), located east of Postira, are, close to a source to fresh water, the ruins of a Roman villa ("

villa rustica

"), of a monastery Benedictine and large early Christian basilica Saint Lawrence (

Bazilika Svetog Lovre

) of

5th

and

Life

centuries. Two early Christian sarcophagi and of the fragments of frescos were discovered in the vicinity.
The Lazarić Palace
On the sea front, among the stone residences of the land great landowners of formerly, the Lazarić palace is characterized by its pinion from Renaissance style and the humanistic inscriptions in religious matter.

It is the house where was born the large Croatian poet Vladimir Nazor (1876-1949).
The Port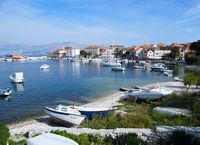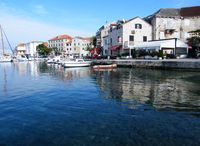 Beaches
Beside the port the beaches of Prvija and Zastivanje are; at the end is village, the beach Mala Lozna; much more in the east, is the very pleasant sand beach of Lovrečina (

Plaža Lovrečina

).
History
Postira was mentioned for the first time in 1347 under the name of Postrena.
Characters
Postira gave rise to some Croatian celebrities of the literature and art: Vladimir Nazor (1876-1949), Ivan Ivanišević, inter alia.
Economy
The economic main activities of Postira are fishing, agriculture, the extraction of the stone of masonry and tourism.

In the back-country of Postira is a 2 km length valley with a fertile ground favourable with the culture of vegetables, vine and olive-tree.

Postira has a canning facility of fish to oil, created in 1907: sardines of the first quality and mackerels.