The Church of St. Ursula (

Iglesia de Santa Úrsula

)
The church St. Ursula is one of the oldest churches in the island of Tenerife, and dates from the early sixteenth century; it houses the image of the patron saint of

Adeje

, Our Lady of the Incarnation (

Nuestra Señora de la Encarnación

), sixteenth century, baroque altarpiece and a. To also note the Mudéjar ceiling of the main chapel, the French tapestries of the seventeenth century purchased at the Manufacture Royale des Gobelins in Paris. The image of the Virgin of the German school of the seventeenth century.
The Strong House (

Casa Fuerte

)
La

Casa Fuerte

was built in 1556 by

Pedro de Ponte

to defend his properties. He was Marquis of

Adeje

and Count of

La Gomera

.
The village of

Costa Adeje

After

Playa de Las Américas

begins

Costa Adeje

, with well known urbanisations as:

Playa del Duque

,

Fañabé

,

Torviscas

and

San Eugenio

, very well equipped. From the Marina

Colón

are organized fishing trips and promenades. One can also visit the Tropical Garden of

Las Rocas

.
The village of

Playa de Las Américas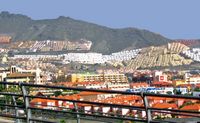 The Ravine of Hell (

Barranco del Infierno

)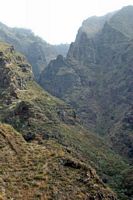 The

Barranco del Infierno

(the "gorge of hell") is a ravine to the point of which flows into the largest waterfall Valley Tenerife, which feeds water from the source of

El Roque Abinque

.

The short hike begins in the town of Adeje. The hiking trail, well appointed, starts at about 200 m from the ravine and goes to the side of the mountain on the southwest side. The path is not difficult, because it has a width of about 1 m; in the steep passages is secured by wooden stakes.

Spectacular waterfall, the dragon clinging to the cliffs or the hygrophilous vegetation are all of interest to this hike.
Crater King (

Caldera del Rey

)
The natural monument of the

Caldera del Rey

, close to tourist urbanisations of

Las Américas

, could not escape their destructive effects. However, it is a protected area formed by a maar (type of volcanic edifice produced by phreato-magmatic activity) even where there was a specific microclimate.
Other Interests
Other protected areas of

Adeje

are the cliffs (

Alcantilados de Adeje

), or the ravine

Barranco de Erques

and

Alcantilados Costeros

and part of the forest crown.