Flora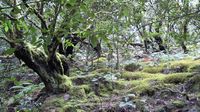 The Canarian laurel forest has found refuge in the foggy areas of the islands.

Garajonay

is, nowadays, the most beautiful living example of this ecosystem. It houses more than half of adults laurel forests of the archipelago. Laurel forest, almost impenetrable, one of the last vestiges of the ancient subtropical forest covers about 70% of the park. One can enjoy various species: tree heath (

Erica arborea

), the

mocan

(

Visnea cocanera

) or the strawberry tree (

Arbutus canariensis

).
Fauna
The park also houses an interesting fauna of about a thousand species of invertebrates, of which 150 are endemic. There are also 38 species of vertebrates: many species of birds, including the laurel pigeon and turquoise pigeon (Bolle's Pigeon), endemic to the Canary Islands, and two species of reptiles, the lizard of La Gomera (

Gallotia galloti gomerae

) and the "

lisa gomera

" (

Chalcides viridanus coeruleopunctatus

) and a species of amphibian, the green frog (

Hyla meridionalis

).
The Rock of

Agando

(

Roque de Agando

)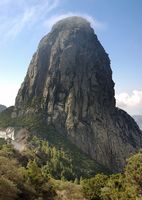 The spectacular geological formations of Roques are another attraction of the National Park of

Garajonay

.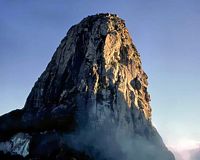 The Roque de Agando is a basalt monolith, 1 250 m, located at the bottom of barranco de la Laja, often drowned in the "niebla" clouds due to the trade winds, is a beautiful area of great botanical richness.