General information
The village of Estreito of Câmara de Lobos is staged to 500 m of altitude, on the right of the road. Its white church, which dominates the village, presents an almost sumptuous nave, decorated with beautiful glosses and a ceiling in cradle.
Vineyard
The banana plantations disappear with the profit from the vine which, in the area of Estreito of Câmara de Lobos, is the subject of a true monoculture. The area of Estreito of Câmara de Lobos east one of principal producing of

sercial

.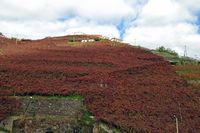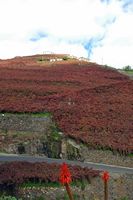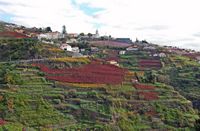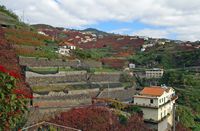 Miradouro de Boca back Namorados
One can go to foot to the hamlet of Jardim da Serra (800 m of altitude), located at 6 km, and

Miradouro de Boca back Namorados

(900 m), almost to 10 km. It is a pleasant walk as far as the eye can see through the vines, especially at the time of the descent, with the sea which gleams with far, beyond the capped hillock of the white bell-tower of São Martinho.
Levada do Norte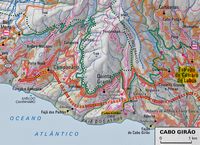 A small road beside the church leads to the high part of the village, which gives access to the

levada do Norte

.

While following the levada starting from Estreito of Câmara de Lobos, one reaches the valley of will ribeira da Caixa (2h with foot AR), true end of the world enchanter framed by the cultivated terraces. Only the rustle of water running in the channel accompanies this walk among the flowers. Those which lay out of more than time can skirt! escaped until the course Girão, then to borrow a path to gain Câmara de Lobos (attention, the points starting and of arrival are different. Approximately 13 km - to count 4 at 5:00).

Since Cabo Girão: to leave the view-point by taking towards north the access road, to turn immediately right, skirt the apartments of the hotel complex until joining narrow a levada (possibly dry) that one can follow in the direction of north (on the left). It leads soon to the levada do Norte, broader, which cuts the road later on where the buses for Funchal stop. But one can continue on the levada do Norte until Estreito of Câmara de Lobos (2 H until the bus stop).
Traditions
In September, at the time of the grape harvest, a colourful festival is celebrated in Estreito of Câmara de Lobos, during which meat skewers, cooked on a grill with the charcoal, and new wine are with the honor. The vast place in front of the relatively modern parish church of Estreito is then tightened multicoloured garlands, the brass band plays and more than one tipsy guest tries to outline some steps of dance. The Sunday morning certainly less "is sprinkled", but also animated in the principal lane of Estreito like in the markets of the close market: the farmers of the surroundings come to attend the mass and to sell their products.