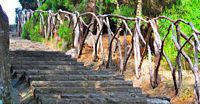 Since the carpark, a way, partly in staircase (145 steps), circumvents by the line the

pico do Serrado

(1 095 m) and gains the view-point.

Eira do Serrado is one of the most beautiful sites of Madeira, with impressive sights on the surrounding mountains and the village, in the valley of the Nuns, which constellates with its White Houses the hollow of a mountainous circus to the gullied walls.

Located at 1,053 m of altitude at the bottom of peak do Serrado (1 115 m), the view-point dominates the hearth of an old crater at the bottom of which the village of Curral das Freiras is heated by the sun. The panorama on the mountains with the sharp-edged peaks where the clouds cling is impressive.

With the bottom of the chasm, back Socorridos (torrent of the Survivors) will ribeira it runs with nearly 800 m of depth. Its name evokes the first colonists who found refuge at this place when the island was devastated by seven years the long fire, of 1420 to 1427.

In front of the view-point the vastest circus extends from the mountains of Madeira: in the west the picos Grande (1 607 m) take shape and do Jorge (1 692 m), Pico da Geada (1 497 m); in north, i.e. opposite, Torrinhas (1 823 m); on the right Arieiro (1 810 m) and, all at the bottom, Ruivo (1 861 m).