Cliff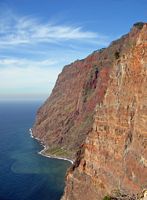 The reddish headland dominates the ocean in a vertiginous cliff. The height of cliff is indicated between 560 and 589 m, which does of them one highest of Europe and the world above the sea (highest, probably Preikestolen (seat of the preacher) in Norway, measurement 597 m). Blue and white agapanthes cling to the top of the headland and of the pines and the eucalypti push until all at the edge.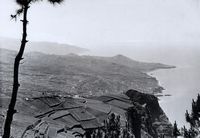 The panorama of Estreito of Câmara de Lobos to bay of Funchal is splendid, the sight on the sea is impressive. In the east, the sight carries well beyond Funchal and the Desertas islands take shape very clearly with broad (30 km as the crow flies,) in clear weather. Downwards, the site of Câmara de Lobos appears between its natural piers of black lava. All the terraces which are staged on the slopes precipice are carefully cultivated, until the limit even of the ocean.
It is a point of view considered with an absolutely spectacular panorama as well as a starting point for paragliding.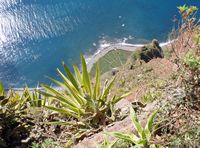 Capela de Nossa Senhora de Fatíma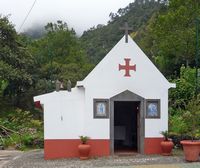 One finds there the vault Our Lady de Fatima, built in 1931. It is one of the most attended places of pilgrimage island.
Fajãs do Cabo Girão
There is terrace cultivation with semi height like in bottom of cliff. Formerly, these last were accessible only by the sea in boat. Since August 2003, a small cable car was installed with an aim, initially, of facilitating the access to the farmers.