General
The village of Platani is a town of about 1700 inhabitants, situated on the island of Kos in the Dodecanese . The village is part of the municipality of the city of Kos .

Platani has the distinction of having a large Turkish minority, and, incidentally, the best of Turkish restaurants on the island. The village has a mosque.
Etymology
The name of Platani (Greek:

Πλατάνι)

comes from the large plane located on the central square of the village, but this name is very recent, dating from 1964.

Platani was called before Kermetés (Germ in Turkish) because it was settled by convicts deported Keramos (Κέραμος) in Asia Minor, now Turkey Gokova in Anatolia. After Turkey invaded the northern part of Cyprus in 1964, the Greek authorities decided to change the Turkish name of the village to Platani.
Location
Platani village is three kilometers west of Kos town , midway between Kos and the archaeological site of the Asclepion .

After a tour in the mountains of Kos ( Asfendiou , Zia , Paleo Pili , Mount Dikeos), a stop at Platani for refreshments before returning to Kos or dinner, is more enjoyable.
The Muslim Cemetery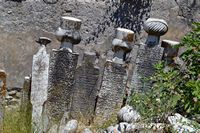 After the Greco-Turkish War of 1919-1922, the majority of Turks in Greece were exchanged against the Greeks of Turkey in 1923, when one or the other were not massacred. However, the Dodecanese being under Italian rule since 1912, the Turks of the Dodecanese escaped this population exchange, so it remained a strong Turkish population on the island of Kos, about 4000 people, particularly in the village of Platani, then named Kermetés.

These Turks kept their identity: they had their own school in the Turkish language, their businesses and, of course, their mosque. After the Turkish invasion of Cyprus in 1974, the school was converted into "just Greek" (after Turkey banned the Greek schools on the islands of Imbros and Tenedos), and the village was renamed Platani , for fear of reprisals, many Turks left the island of Kos in Anatolia, and today the Muslim population Platani not exceed 50 families remained only those who owned shops. However the mosque is still in use and you can always see Muslim women with their hair covered.

The Muslim cemetery Platani is one of the "attractions" of the village. There is also a Jewish cemetery near the Muslim cemetery: it is located in a pine forest, 300 meters after the exit towards Platani Kos .
General Information
Restaurants
Restaurant Arap
The restaurant Arap

(Αραπ)

is located on the road between Kos and Asclepieion on the large shaded square of the village. Memis Arap, a member of the Turkish community on the island, opened his restaurant in 1955.

The Arap serves traditional Greek and Turkish originating in Anatolia Iskender kebab (grilled meat with tomato sauce and yogurt, accompanied by fried potatoes and pita bread) yaourtlou (fried vegetables with yogurt and Garlic Sauce) ...

Menu from 10 € a 25 €.

Open from February to mid-November.

Phone: 00 30 22420 28442
Filiation of the topics
More detailed topics
Close topics
Kos Town, Kos Island - Interactive map
Kos Town, Kos - The Greco-Roman city
Kos Town, Kos - The Byzantine city
Kos Town, Kos - The medieval town
Kos Town, Kos - Castle Neratzia
Kos Town, Kos - The Ottoman city
Kos Town, Kos - The Italian town
The village of Platani, Kos
The village and hot spring Empros, Kos
Broader topics
Home page
The island of Kos - Interactive Map
The city of Kos or Cos, Kos
The site of the Asclepion of Kos, Kos
The town of Asfendiou, Kos
The town of Pyli, Kos
The town of Antimahia or Antimachia, Kos
The town of Kardamena, Kos
The town of Kefalos, Kos
The island of Kos in the Aegean - The history of the island