General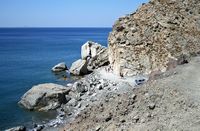 You can get to the source of thermal Empros by car or bus.
by car, be aware that the small parking lot near the source is usually full at 11 am, but there is another parking near the bus stop, in addition, on the last mile, the road turns into a track of land.
by bus, you can take the bus n ° 5 from Cos (last departure to 18 h) and the journey takes 15 to 20 minutes.
There is no opening hours and access is free, but the source of Embros is busy at peak hours (from 9:00 am): it is better to get there sunrise to enjoy. Some bathe at sunset or in the evening, but it is better to provide lighting.
Restaurants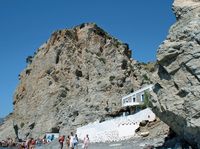 Beside the source was an old tavern, Taverna Therma, now closed, which proposed fish dishes at an affordable price: in particular parrot fish, swordfish or tuna.

There are now right next to the pool, a café serving drinks and ice creams.