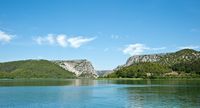 In its middle price, after cascades of

Roški slap

, the Krka river is transformed into what it is agreed to call a lake - but which is only one very widened portion of the river - the Lake Visovac, which extends on a little more than 12 km between

Roški slap

and

Skradinski buk

. It is indeed in

Skradinski buk

that the highest travertine barrier is that the river formed. This barrier has a total height of 45 m between the surface and the bottom of the Lake Visovac.

In addition to the Lake Visovac, this barrier because the formation of the lake of Čikola on the river of the same name, which is an affluent of Krka on its left bank, right before the cascades of Skradin.
The monastery of Visovac and its church are drawn up on the small island of Visovac, forming with its splendid park, a such jewel in the ECRIN of the lake, a very harmonious and almost magic unit.

The first to be established in the small island of Visovac were monks augustins who founded there, at the 14th century, a small monastery and a church dedicated to the apostle Paul; this catholic monastery is mentioned in 1345 in the charter of king Louis 1st of Hungary. At the next century, in 1440, Franciscan brothers arrived at Visovac fleeing Bosnia occupied by the Othomans. Starting from 1445, the Franciscan ones increased the monastery Our Lady of the Mercy and, at the 16th century, built the Church Our Lady de Visovac.

A new monastery was built at the 18th century; it is served still today by the Franciscan ones. The oldest parts are the well dating from the 14th century, and the parts of the cloister of the monastery dating from the 15th century.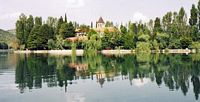 Throughout the animated history of this region, the Franciscan monastery of Visovac is remained a small island of peace and prayer, a fortress of spirituality and the faith, and one of the essential foundations of the safeguarding of the Croatian national identity.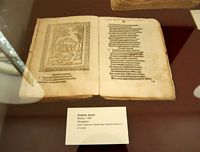 The monastery of Visovac shelters a beautiful collection of manuscripts, old books and incunables; the most invaluable incunable is a particularly rare specimen of the illustrated "Fables of Ésope" (Brescia, 1487), printed by the printer of Lastovo Dobrić Dobričević. The rich library of the monastery also has 620 documents dating from the occupation of the area by the Turks (Edicts of the Sultan).
The museum understands also a collection of clothes and liturgical crockery, invaluable crowned objects, interesting Italian paintings of 16th and 17th centuries, and a saber having belonged to the commander Vuk Mandušić, one of the most loved heroes Serb epic poetry, born close to Visovac, which fought against the Othomans.