The village of

Tetir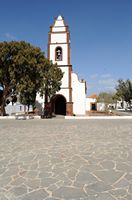 A beautiful avenue lined with palm trees and beautiful traditional houses with balconies testify that

Tetir

once enjoyed a certain prosperity thanks to its ocher and fertile land where cereals and prickly pears were grown in terraced fields. Today many of these fields are abandoned.

On the vast Plaza Juan Rodriguez, where stands the church of St. Dominic, a statue recalls that Juan Rodriguez y Gonzáles (1825-1893), the founder of the Bank of the Canaries (Banco de Canarias), was born in Tetir. Another statue honors timple player (a stringed instrument typical of the Canary Islands), a sculpture by Juan Miguel Cubas.

It is hard to imagine that this little town was asleep even - until 1925 - the joint capital of which was the current party capital of the island, Puerto del Rosario, who was then called Puerto de Cabras. But Puerto de Cabras, whose population had increased significantly, became an independent municipality in 1835; the rivalry between the two towns gave rise between the years 1876 and 1899, a series of territorial conflicts which were finally resolved in favor of Tetir. But in 1926, it is Tetir - and Casillas del Ángel - which was included in the municipality of Puerto de Cabras.
The Church of St. Dominic (

Iglesia de Santo Domingo de Guzmán

)
The Church of St. Dominic was built in 1745 and became a parish church in 1777; white steeple, very characteristic, with angles in dark volcanic stone, was built in 1883.

The interior of the church contains a beautiful baroque altarpiece of the eighteenth century, partly gilded, with interesting paintings.

The festivities of St. Dominic held on August 4 at Tetir.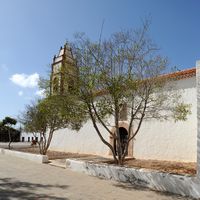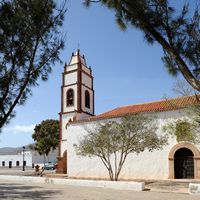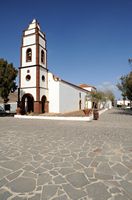 The mountain

Temejereque
1.5 km northwest of

Tetir

, a small road of 3.5 km long, through the hamlet of

Tamariche

, lets get into car to the top of the mountain

Temejereque

, north of

Tetir

. This service road serves the telecommunications station being at the top of the mountain. From the top you have a beautiful view over large parts of the island.