General presentation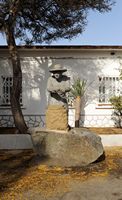 Casillas del Ángel

is a village of just over 500 inhabitants, the center of the island of

Fuerteventura

. The locality, independent since 1812, has been linked in 1926 to the town of

Puerto de Cabras

, today

Puerto del Rosario

. The population, once specialized in the breeding and cultivation of the potato, now works mainly in the service sector. Near the church of Saint Anne, you can still see old farmhouses with clay-colored walls; some are in good condition and still inhabited.
Etymology and toponymy
The place name

Casillas del Ángel

("Small houses of the Angel") comes from the name of the Chapel of the Guardian Angel (

Ermita del Ángel de la Guarda

) who was the first place of worship in the village founded in the seventeenth century. This chapel is in the cemetery of the locality.