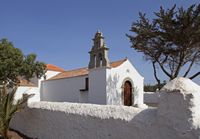 The Chapel of St. Peter of Alcantara was built in the seventeenth century, founded in 1681 by

Don Pedro Medina

and his wife

Doña Agustina de Bethencourt

.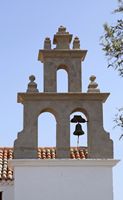 La Ermita de San Pedro de Alcántara is surrounded by a solid wall of protection, or Barbican, painted white. The chapel is a building with a single nave; the front is opened by a portal with round arch surmounted by an oculus. The high bell tower in gray stone, is arranged laterally on the Gospel wall, and not above the portal.
The interior of St. Peter's chapel contains a rich collection of paintings, both murals that easel paintings; most are allegorical paintings of the life of San Pedro de Alcántara (1499-1562), Franciscan monk canonized in 1669 by Pope Clement IX. The murals date from the second half of the eighteenth century (1760) and are the work of an anonymous painter who probably also worked to Betancuria and La Oliva. The mural near the altar uses the technique of trompe l'oeil painting where meddle, architecture and sculpture, with rococo elements; it is considered one of the largest of the Canary Islands for the quality of the art and was nicknamed the St. Peter chapel the "Sistine Chapel of the Canary Islands." The chapel also houses many paintings and canvas paintings, polychrome wooden altarpiece, statues and a wooden pulpit of the eighteenth century.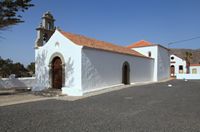 St. Peter of Alcantara is celebrated on 19 October in La Ampuyenta.
Visit the chapel:
La Ermita de San Pedro de Alcántara is located on the esplanade at the Top of La Ampuyenta just behind the hospital of Dr. Mena.
Hours: in principle Tuesday to Saturday, 10 am to 18 pm, but unfortunately the chapel is rarely open. It is more likely to find the open chapel before Mass 17 am Saturday.