The

Barranco de la Cruz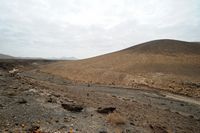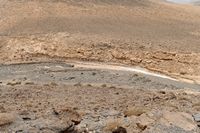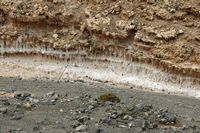 The western coast in

Puertito de los Molinos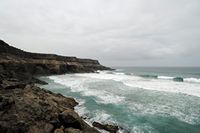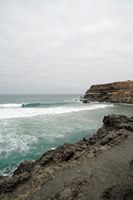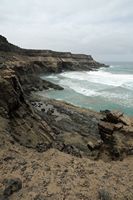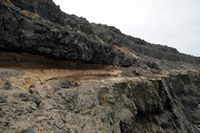 Plots of agricultural colony (

Colonia agrícola de Las Parcelas

)
Agricultural colony of

Las Parcelas

was founded in 1946 along the dam was built

Los Molinos

, to give activity to 30 poor families of

Puerto de Cabras

(

Puerto del Rosario

) assigned each parcel included a housing, two hectares of land and 56 pesetas to buy the necessary farm equipment. The land was dedicated preferably to the cultivation of cereals, but when the amount of water allowed, vegetables and fodder for livestock (millet and alfalfa) were also cultivated. Many owners left the colony in the 1950s or 1960s to return to the capital,

Puerto del Rosario

, or to emigrate to Gran Canaria or in Western Sahara. There are now only six families descendants of former owners.
The dam of Moulins (

Presa de los Molinos

)
The dam of

Los Molinos

is located in the valley

Barranco de los Molinos

; This dam was built to irrigate land in agricultural colony of

Las Parcelas

, located two km downstream of the dam. Construction work began in 1943 under the leadership of General

Garcia Escámez et Iniesta

, and the dam was opened three years later. At the same time were built dams of

Las Peñitas

in

Betancuria

, and

Río Cabras

in

Puerto del Rosario

.

The tank capacity was first 500,000 m³, and in a second phase was increased to double (1,000,000 m³); this is the most important dam reservoir of the island with 100 m long and 40 m wide. The dam is usually only half full; it is only during the rainy year 1991 it was full to the brim. Furthermore, salifère source, located at the base of the dam, said that its water could never be used for irrigation of crops.

To reach the Embalse de los Molinos, we must turn left on a dirt road from the first house in the Colonia de Las Parcelas; one reaches the tank after 3 km away.