Church of St. John the Baptist (

Iglesia de San Juan Bautista

)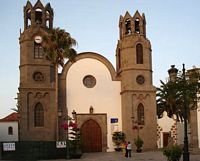 The Church of St. John the Baptist, the

XV

-

XVII

centuries, is remarkable for its choir (

Capilla Mayor

), a work composed of two altarpieces, one of gothic-Flemish style of the sixteenth century is surrounded by the other baroque style of the eighteenth century. It contains a Christ on the cross Mexican, imported from Latin America and conducted by an Indian process, in millet paste.
The district of

San Francisco
The Saint-François district is one of the jewels of the island of Gran Canaria, with its almost intact route since the sixteenth century, with its narrow winding streets that rise to the square of

Santa María

.

One of the characteristics of the neighborhood San Francisco are its low houses with gable roofs and long walls whitewashed, interconnected by streets to the pavement so special. In this area you can visit the churches of San Francisco, with its stone altarpieces of Santa Rita de Casia, of Santo Domingo de Guzmán and Santa Lucía.
The neighborhood of

San Gregorio
The Saint-Grégoire neighborhood is when traders and craftsmen established themselves.

The church of San Gregorio is distinguished by its neoclassical altarpieces and the size of the Virgen de los Dolores.
Archaeological sites
Area

Telde

was during the pre-Hispanic period, one of the two kingdoms which divided the island of Gran Canaria. You can visit some of the most famous archaeological sites such as

Baladero

,

Tufia

,

Cuatro Puertas

,

Tara

and

Cendro

.

Deposits of Cendro, Tara and El Baladero consist of sets of caves and cave dwellings, some artificially created and others using volcanic caves. The deposit Baladero is located at the foot of all historic and artistic of San Francisco who was one of the most important sites of Aboriginal culture, mingled magic and religion. Finally Tufia is the most important deposit, both by the number of caves with its houses of rough stone complex.

Mountain las Cuatro Puertas is a set of caves that were inhabited by aborigines. According to historians, they would have served accommodation and workplace for embalmers.
The beaches
Telde

also has access to the sea, with its cliffs and beautiful ground lava beaches. It is also possible to visit beautiful bays such as

Gando

, probably the first natural port of the island.

Of the ten kilometers from municipal coastline stand the beaches of La Garita and Melenara maritime tradition and have 600 meters of sandy beaches.

Telde has beaches able to mix beauty and mystery. This is the case of San Borondón that reminds us of the legend of the Irish monk and Ojos de Garza, wonderful beach that hosts the majority of the avifauna that frequents these coasts.