General presentation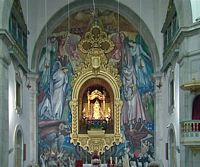 The Basilica of

Candelaria

, in the neoclassical style of the fifteenth century, contains the miraculous statue of Our Lady of

La Candelaria

, patron of the Canary Islands.

The statue is a black virgin that the Guanches were found in a cave Mencey Acayno, and they moved to another cave beside the sea cave called Mencey Achbinico. On February 2, 1526 they have installed in the new basilica. In 1826, a wave was driven into the sea and Dominicans did sculpt a copy.

Pilgrimage since the fourteenth century; each February 2 inhabitants of the island come on pilgrimage to the basilica.

The basilica is located in the village square.

Much of this town, especially the upper part, is classified park. There are both vast pine forest areas from the back, passing through areas of junipers, until pouring

Chafa

, It is a very rugged region with beautiful landscapes.

The main attraction of the coast is of course its beaches.