The village of

Sóo
The sixteenth and seventeenth centuries the village of

Sóo

was mainly inhabited by Moorish slaves; this time there are some houses with the windows closed but not by windows with mesh timber in the model of Arab homes (kinds of moucharabieh).
The plain of

El Jable
El Jable

is a vast plain of sand, an area of 40 km², stretching the middle of the island of

Lanzarote

, between the mountains of the north, the

Risco de Famara

and

Risco de las Nieves

, mountains south, the

Montañas del Fuego

. The place name "

jable

" is a corruption of the French word "

sable

" that the Norman conquerors of

Lanzarote

gave this region.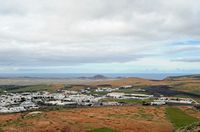 This sandy desert is formed from shifting dunes created by the action of northwest winds, which abut on the cliffs of the Cordillera Famara and moving towards the south, causing the sand of the coast to the interior of 'island. Despite the aridity of the soil, farmers Lanzarote have developed a dry farming (secano) using sand as evaporation retardant, in the same way as volcanic lapilli (picón) are used in the art of the enarenado.
The area of El Jable is appreciated by birdwatchers because it is the best place on the island to watch desert species of Lanzarote such as the Houbara Bustard (Chlamydotis undulata), the stone curlew (Burhinus oedicnemus) or the cream-colored courser (Cursorius cursor).