St. Sebastian chapel (

Ermita de San Sebastián

)
The Chapel of St. Sebastian is building a small but charming, with a single nave with a gabled roof. As the village, the chapel was built in the seventeenth century.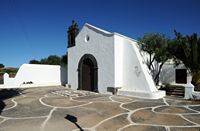 The pottery of

El Mojón

(

Alfarería de El Mojón

)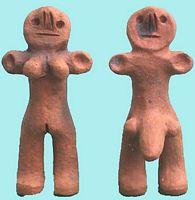 El Mojón

is the center of traditional pottery of

Lanzarote

; pottery of

El Mojón

is a fusion of indigenous techniques and forms and techniques typical of North African pottery, made ​​by Moorish slaves who founded the village. At the end of the

twentieth

century, this expertise has been backed by some potters whose production is now mainly for decoration, with floral and geometric patterns.

The emblem of pottery statuettes of the village is a couple named "Los Novios de El Mojón" (The Betrothed of El Mojón) meant to symbolize fertility in Aboriginal tradition, with very apparent sexual organs.